As part of our commitment to raise standards for domestic workers and employers, Hand in Hand has partnered with the California Domestic Workers Coalition(CDWC) to win health and safety protections and end the exclusion under CAL/OSHA laws.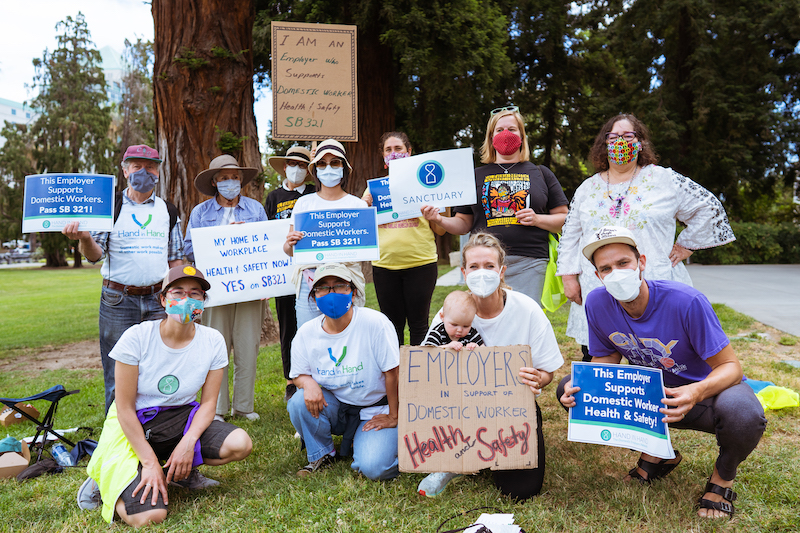 In September 2021, the Governor signed SB 321: The Health and Safety for All Workers Act, that required Cal/OSHA to conduct a study and publish the first ever set of health and safety recommendations for domestic workers in the state. 
In January 2023, these Health and Safety recommendations were released, albeit voluntary. On March 1, 2023 Hand in Hand alongside CDWC, launched a campaign to pass Senate Bill 686 which would make these guidelines mandatory, along with funding for outreach and education to workers and employers, as well as financial aid for employers to help them comply with the law.  
Why Are There No Health and Safety Protections for Domestic Workers?
Domestic workers and day laborers are the only workers left out of California's workplace health and safety protections (Cal/OSHA). This exclusion has its roots in the legacy of slavery and marginalization of Black workers in the U.S.   As 'women's work' primarily done by Black, Indigenous, and immigrants of color, domestic work continues to lack respect and rights due to racism, sexism, ableism, and xenophobia. 
Health and Safety Threats in the Home
The two million homes that employ domestic workers are unprotected worksites for domestic workers in California. These workers are regularly exposed to health and safety threats like toxic cleaning products, extreme heat, wildfire smoke, and lifting injuries, with no means to remedy them. COVID-19 and worsening fire seasons have led to an increase of injuries, illnesses, and countless, preventable deaths.
Health and Safety Standards Benefit Domestic Employers Too
In 2022, as a result of our organizing, a Cal/OSHA advisory committee of domestic workers and employers created health and safety guidance for domestic workers. This year's legislation, Senate Bill 686: The Health and Safety for All Workes Act, takes the next step to make health and safety a right for workers. It will also provide employers with resources to prevent worker illness and injury, protect themselves from liability, and help make their homes safer for themselves and their loved ones.
Education and Funding are a Crucial Part of this Legislation
Due to the isolated nature of worksites in the home, outreach and education is a key part of implementing health and safety rights. This legislation will provide funding to expand existing domestic worker and employer education.  It will also provide financial and technical assistance for low-income domestic employers who need help covering health and safety expenses, such as personal protective equipment or ergonomic supports like Hoyer lifts. 
It's Time to Make Homes Safe Places to Work
Without health and safety protections, California's domestic workers will continue to face exploitation, isolation, and life-threatening workplace conditions. Now, it's time to make health and safety a right, not just a recommendation, for domestic workers.  
Domestic employers play a key role in bringing safety and dignity to those who do essential work in our homes. We can be on the right side of history by supporting Senate Bill 686 and implementing health and safety practices.
Sign the Petition 
For more information, contact [email protected].