In 2022, Hand in Hand began partnering with Service Employees International Union Local 2015 in California on a county-by-county campaign to increase wages for home care workers hired through the "In Home Supportive Services" (IHSS) program to $20/hour. 
Despite the growing need for home care across the country, it is increasingly difficult to find. The national turnover rate is as high as 60% within the first year of service and 90% within the first two years.
Hand in Hand joined this campaign as part of our ongoing work to unite home care workers and consumers- whose struggles and livelihoods are deeply interconnected. To date, wage increases have been won in Alameda, Contra Costa, and LA Counties. Currently, we are fighting to win in Sacramento. Sign our petition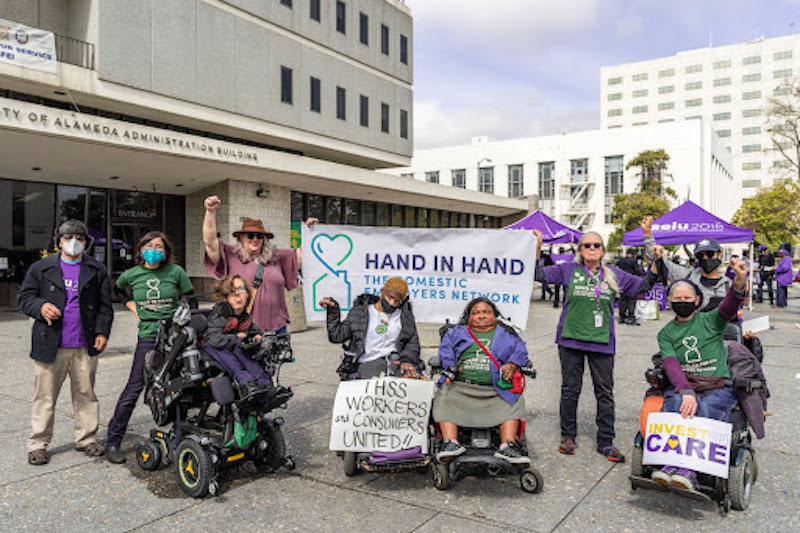 "Since Hand in Hand joined the campaign, we've noticed that elected officials listen in a different way. When home care workers and consumers are united in our efforts to address turnover rates, and workforce shortages, we build the power necessary to transform our care system. We're looking forward to organizing together in the years to come, to build a just and caring future for California." — SEIU Staff
Connecting the dots… low wages, consumer independence, and quality care
Over 650,000 Californians need publicly funded "In Home and Supportive Services" (IHSS) to be able to live at home and in their communities with self-determination. Yet, receiving care through IHSS has become increasingly difficult as workers are leaving the industry due to low pay and inadequate benefits. 
On average, IHSS workers earn $16 per hour, and 53% receive some sort of public assistance just to survive and feed their families. Nationally, in-home care workers are 87% women, 62% people of color, and 31% are immigrants.  These low wages drive workers out of the industry in search of higher paid work, leaving people with disabilities and older adults with inadequate support to live safely at home, and at risk of institutionalization.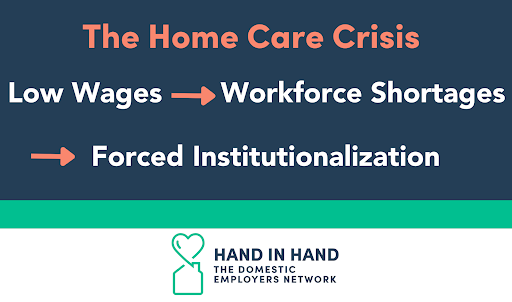 "I am not an activist. I am a voiceover artist and performer struggling to make ends meet. My team of IHSS assistants are the only thing standing between a life of freedom and control and a life of dehumanization in a nursing facility. Pre-pandemic, I supplemented the insultingly low pay wage with gifts, favors, and my own income. Currently, the labor shortage is so severe, I wake up in a cold sweat at the thought that I am competing with my own baby boomer parents for a piece of the dwindling caregiver pie." — Jade Theriault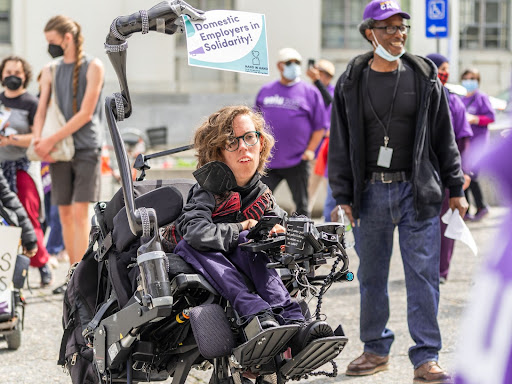 Hand in Hand member Bhumit Shah also shared his experience, "As a person with a disability, I find it extremely difficult to hire home care providers that can meet my unique needs. And when I do find someone, they don't stay because the pay is too low. Nationally, 90% of homecare workers leave within the first 2 years on the job. We need to address this high-turnover by transforming homecare jobs into good family-sustaining jobs." 
Fighting county by county as well as state-wide
The fight for winning IHSS worker wage increases in California is happening county by county. In California, wages are set by the County Board of Supervisors, an elected body of officials who set priorities and budgets for county-wide programs. While funding for the IHSS program comes from the county, state, and federal budget, California counties are the ultimate decision-makers for IHSS wages: they are the "employers of record" and negotiate each county's wages with the union representing workers.  
Currently, Hand in Hand is joining legislative efforts with SEIU 2015 and United Domestic Workers AFSCME to change the way IHSS wages are set, so that workers can negotiate their wages at the state level.  This would allow IHSS workers and consumers greater power and efficiency to win wage increases, rather than spread their energies to negotiate across all 58 counties in California where the political will to raise IHSS wages varies significantly.  This has led to some IHSS workers making as little as $15.50 in some counties and others making closer to $18 or even $19/hour.