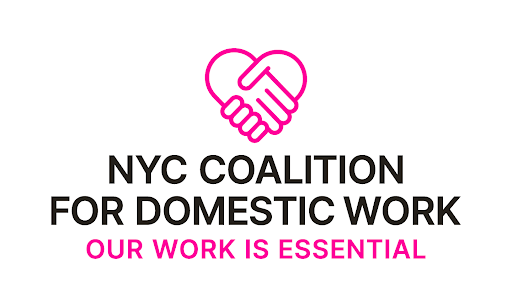 We are a growing movement of domestic workers, employers, parents, family caregivers, older adults, and people with disabilities working together to transform New York City's care economy to one that is equitable and sustainable for all.
Our Goals:
Build our power to win victories for domestic workers, domestic employers and family caregivers.

Educate our elected leaders on the need to transform the care system.

Transform the care sector into a sustainable, fair and equitable sector.
The Care Platform is an initiative of Hand in Hand: The Domestic Employers Network, National Domestic Workers Alliance, Carroll Gardens Association, and Adhikaar.
---
Domestic Work is Essential Work
Domestic work is essential work, and a vital part of the New York City economy. As COVID-19 has shown the world, the work of childcare providers, nannies, house cleaners and home attendants, is work that makes all other work possible. 
There is a growing demand in our city for domestic workers. Yet as this recently released domestic worker fact sheet outlines, these jobs remain underpaid, undervalued, and without benefits. New York City's 200,000 domestic workers are largely immigrant women of color— further exacerbating the racial and economic injustices far too prevalent in our city. 
---
Our Policy Recommendations
We call on New York City to create a care action plan in partnership with local worker and employer organizations. This plan should respond to the COVID-19 crisis, raise standards for domestic workers, and support the enforcement of domestic worker rights legislation through worker/employer outreach and education.  It is also imperative that we stop the attack on our Black and brown communities by defunding the police and ending all collaboration with I.C.E. while reinvesting in Black and brown communities.
Create a government funded outreach program and increase enforcement for worker and employer education to end to end exploitation of workers who work in private homes, behind closed doors.

Ensure labor and human rights protections for domestic workers

Citywide outreach & education program for domestic workers & employers

Set up a retirement program for domestic workers regardless of their immigration status. 

Create and pass a policy to prevent unjustified termination. Employers would be required to provide a written reason for the termination at least two weeks in advance.

Invest in an essential home care workforce and long term services and support for older adults and people with disabilities

Explore how the city can further fund and use EISEP, HRA, the Paid Care Division, and other local sources to create a sustainable sector for older adults and direct care workers. For example, increasing funding for the Expanded in-home Services for the Elderly Program (EISEP), which is administered at a local level by the Department of the Aging, would provide services to older adults on the waiting list. 

Create public service campaigns to improve the perception of this essential occupation and recruit new workers into this field

Explore ways to offer direct care workers affordable benefits regardless of immigration status, such as health insurance and retirement plans

Ensure training for direct care workers is accessible, low-cost, and high-quality

Improve data collection to better create targeted policies to find solutions 

Fund and administer worker and employer surveys to better understand the needs and challenges facing this sector, including but not limited to the need for child care and elder care

Increase investment for universal childcare, ensuring childcare for domestic workers and everyone who needs it.

Defund the police and ensure the NYPD do not collaborate with I.C.E.

Decrease NYPD budget to instead invest in good care jobs, access to quality housing and education for low-income New Yorkers. 

Secure NYC as a sanctuary city and reinforce sanctuary policies

End tax breaks for the wealthiest New Yorkers to provide economic relief for workers, and invest in communities of color including  access to quality care, health, housing, education, transportation, and all human rights  every New Yorker deserves.
---
Support Our Platform
If you feel strongly about what we are working towards, click below to endorse our platform!