There are more than 2 million households that hire domestic workers in California including nannies, house cleaners, and home attendants. These essential workers provide critical care for families, older adults and people with disabilities.  Yet despite this, they have been excluded from California's health and safety laws. Hand in Hand, as part of the California Domestic Workers Coalition is working to pass legislation, Senate Bill 321: The Health and Safety for All Workers Act, that would end this wrongful exclusion and give domestic workers protections under CAL/OSHA laws.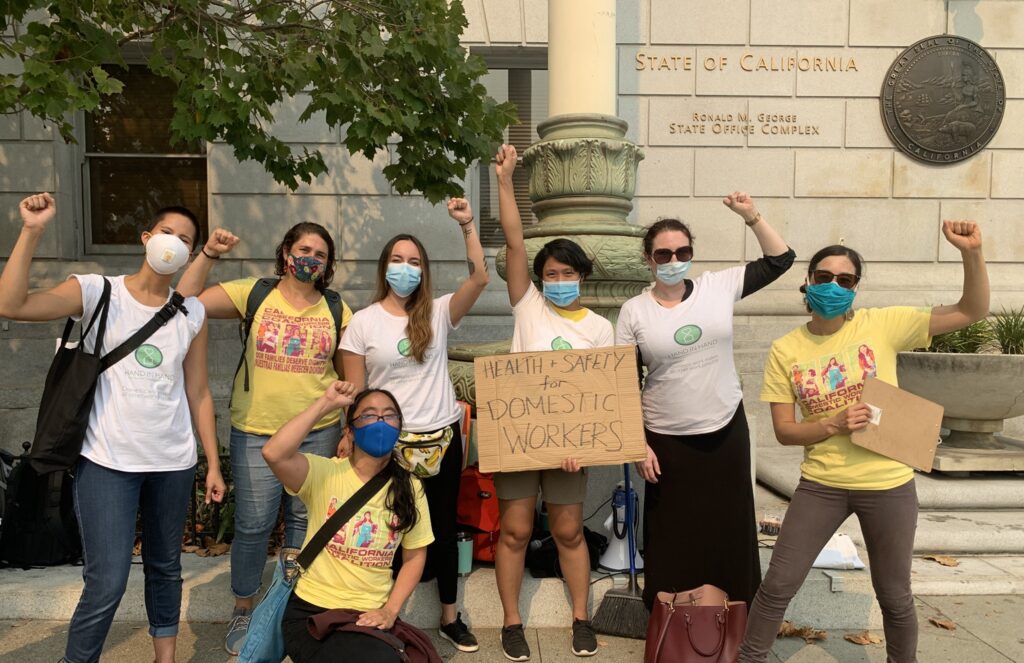 Show your support!
---
---
Why domestic workers need health & safety protections
During the pandemic, domestic workers across the country have put their health and lives at risk, along with that of their own families, to continue to come to work. Many have gotten ill or lost their lives from COVID-19 because they were not provided adequate protective gear, or were forced to work in unsafe conditions.
Furthermore, the informality of the domestic work industry, without the protections guaranteed in other workplaces, has made such labor dangerous. Some of these dangers in California include:
Exposure to toxic cleaning chemicals that cause skin and eye irritation, respiratory problems, and more serious illnesses
Physical injuries from heavy lifting and repetitive motions that often result in acute and chronic pain
Being asked to perform life-threatening duties during wildfire season— from fighting fires, guarding homes or pets, working in smoky conditions, to cleaning up toxic ash— including in areas that were under mandatory evacuation.
Senate Bill 321: The Health and Safety for All Workers Act, will include domestic workers under the protections of California's Division of Occupational Health and Safety (Cal/OSHA), entitling them to basic safety protections on the job. The bill also provides safeguards for protecting the privacy of individual domestic employers in the enforcement process, and provides them with guidance on how to keep their employees safe.
A safer workplace for domestic workers means a safer home for their employers!