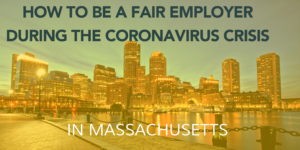 On March 10, Governor Charlie Baker declared a state of emergency in Massachusetts. Many of us are anxious and scared about how the virus will impact us and our communities. While it's hard to know what will happen, especially as new information is released hourly, we do know that this virus is exposing many of the flaws and inequities in our system, from the need for universal health care coverage to a lack of paid time off for workers.  
Most domestic employers want to do the right thing when they employ someone at home. Being a fair employer means educating yourself about best employment practices, your legal obligations, and preparing your household for moments of crisis. Whether you employ a nanny, house cleaner, and/or home attendant, something you can do is take measures to protect domestic workers and care workers, a workforce often excluded from basic labor protections. These measures often help us protect ourselves and our families too.
Hand in Hand: The Domestic Employers Network has prepared this toolkit of best practices for employers to protect the workers employed at their home. We recognize that domestic employers are diverse in terms of race, class, age, ability, gender, etc, and have varying capacities to carry out these recommendations. We welcome your thoughts and feedback on how to improve these recommendations. Email us at [email protected]
Find our New York Toolkit here, our California toolkit here, our Pennsylvania toolkit here, and our Washington state toolkit here.
Recommendations for All Domestic Employers
Before taking action, review this toolkit

(including tips specific to your employer type below) and take action where possible.

Have a conversation

with the person you employ at home about Coronavirus and make necessary adjustments for this new reality. Together, set up new agreements to avoid any conflicts and impacts on their income. (Here are more tips for establishing

open and respectful communication

with workers in your home.)

Protect your employee's health and your household's health.

If you need your employee to come to work:
Provide masks, gloves, soap, and hand sanitizer

and give the worker an assurance that your

family will sanitize your home. 
If you or a member of your household is sick, tell your worker and protect your workers' health

by not asking them to work if at all possible, or honoring their request not to work. If they do come to work, practice social distancing guidelines (you can find some

here

), minimizing contact between the person who is sick and your employee.  

If you or members of your household have COVID-19 symptoms, get yourself and family tested.  Isolate the member of your family who is sick. Notify your employee and ask them not to come to work, and provide them paid time off. If your employee is sick, give them paid time off and assist in covering health care costs if you can.

If you are able, consider

paying for a taxi or rideshare to transport the workers home who may normally rely on public transit

.
If you can, provide extended paid sick leave.

If you don't need your worker to come to work, or if the worker becomes sick, provide them with paid sick leave.

In the midst of this crisis, Hand in Hand recommends providing at least

10 days of paid time off, or more if you're able

, for your employee to visit the doctor or to stay home to care for themselves or their family members who are sick

.
Take action to support all Domestic Workers and our communities.

See the list below for how to support new legislation that will support domestic worker's safety and labor rights, as well as how to donate directly to a Coronavirus Care fund for workers.

Become a member of Hand in Hand: The Domestic Employers Network!

Join a national movement mobilizing people who hire nannies, house cleaners, and home care workers to bring respect and dignity to domestic workers and ensure affordability of care for our communities!
Specific Recommendations for Childcare provider, Attendant and House cleaner Employers
For employers of childcare workers/nannies
If you are now working from home

, set yourself up for success—

avoid micromanaging or adding new supervision in the worker's day

. Your home is already their workplace. While you adjust to working from home, set yourself up to maintain their work structure as much as possible.

If you are in a

nanny share

, consider these options: 

Be sure you and the other employing family are on the same page BEFORE talking to the childcare provider about what paid time off (PTO) already exists in your work agreement, how much PTO is left for the remainder of your agreement, and what additional PTO you're willing and able to offer.

Consider setting up one home for the childcare and the other home as the place where the parents work, to minimize disruption in both the children's care and the parents' work.

If you are concerned about exposure to the childcare provider or from the childcare provider and have the work flexibility to do so, place the childcare provider on paid leave and have the parents take turns caring for the children. 

Here is a

sample work agreement

for nanny shares to create a temporary change in the agreement and offer paid time off created by one of Hand in Hand's Bay Area members.
For employers of home attendants
Adjust your schedule

to stay at home as much as possible to avoid crowded areas to reduce your exposure and your employees' exposure. Some ways to do this are by rescheduling or canceling non-essential appointments and getting supplies or groceries delivered. 

If you have multiple attendants and one is sick, ask the person who is not well to stay home and ask your other attendants to cover their shifts to minimize everyone's exposure. This will also help the sick attendant get better.

Have attendants continually wash their hands and wear gloves as much as possible to keep everyone safe. (See other health and safety tips above.)

If family members or those that live with you are available,

not in a high-risk group, and able, consider checking in about whether they can fill in for sick attendants or cover your shifts so that your attendants can stay home.
For employers of house cleaners 
House cleaners are tasked with a lot, and more under the current circumstances. When you discuss sanitizing your home with them, be sure to cover the following topics: 

What to sanitize and how. See detailed guidance

here

.

Prevent mixing chemicals that create a toxic environment

. For example, be careful with the excessive use of bleach, and avoid mixing some chemical products with wipes that have high content of VOC or mixing ammonia and bleach.

Provide added protection

such as gloves and goggles

for workers who are sanitizing homes

.

Masks are currently

only

recommended for people who are not well. 

Compensate cleaners for the added work of sanitizing a home on top of cleaning it. 

Have a flexible cancellation policy and if

pay for canceled appointments.

(Under the Governor's March 23 Emergency Order, although housecleaning in private homes is not technically prohibited, cancellation is consistent with the advice being provided to cease non-essential services to prevent the spread of the virus. Pay your employee their normal monthly wages to the degree you can so that they are able to continue to support themselves and their families.)

Provide a flexible schedule to optimize travel.
Take Action and Support Policies to Protect Your Worker
Support our policy campaigns and join in solidarity with communities of color, low-income people, seniors and people with disabilities who are particularly vulnerable at this time.
Legal Obligations under Massachusetts State Law
Massachusetts was one of the first states to pass a Domestic Workers Bill of Rights in 2015.
Domestic Workers Bill of Rights
Domestic workers have the right to minimum wage, overtime, time off from work and other protections.
If the worker works 16 or more hours a week, you must provide a written agreement that includes information about:

Regular and overtime rate of pay

Raises or increases in pay for added duties or skills

Work schedule and job duties

Rest periods, sick leave, holidays, vacation, personal days

Any other benefits

Charges or pay deductions

Eligibility for workers compensation

Process for raising and resolving concerns

Notice of termination by employer or worker

Why and when the employer will enter live-in workers living space

What is the cause for termination



Domestic employers must provide a notice of their employment rights under state and federal law to the worker and is required to keep payroll records that include how much a worker worked each day and each week, the pay, and any deductions that were taken. The records must be retained for 3 years and workers are eligible to see their records at a reasonable time and place.
Sick Time and Vacation
Workers have a right to earn 1 hour of sick time for every 30  hours worked, up to 40 hours per year. Workers must be able to use their sick leave 3 months after their first day of work. The Massachusetts Attorney General's Office has provided a FAQ about COVD-19 and sick time at https://www.mass.gov/sereevice-details/frequently-asked-questions-about-covid-19-employee-rights-and-employer-obligations. 
Employers and workers will agree on vacation and personal days, and whether these days will be paid or unpaid. If you agree to paid vacation time, workers must get paid for any unused vacation time they earned when the job ends. Find more information about vacation time at www.mass.gov/ago/fairlabor.
Unemployment Benefits
Workers should be eligible for unemployment benefits if they can no longer keep employing temporarily or permanently, or if their hours have been reduced, as a result of COVID-19. Under the Coronavirus Aid, Relief, and Economic Security (CARES) Act signed into law on March 27, workers should be able to receive unemployment benefits even if their pay has been reported on a 1099 form instead of as W-2 wages. Workers do need to have current, valid U.S. work authorization to collect benefits. Workers can contact the Department of Unemployment Assistance at www.mass.gov/dua or 617-626-6800.
Workers Compensation
If the worker is exposed to COVID-19 while on the job and becomes ill, it is possible that they could receive workers' compensation benefits if they are disabled for 5 full or partial calendar days. If the worker is disabled for less than 5 full or partial calendar days, they can file a "medical only" claim. All workers' compensation claims are initially reported to the employer's insurer. If claim is denied, the worker can file an appeal with the Department of Industrial Accidents, https://www.mass.gov/orgs/department-of-industrial-accidents.