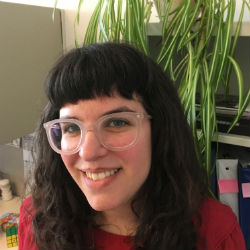 Since being involved with a (losing) campaign to keep the TV show Family Tides on the air in 5th grade, Dana has been organizing. She has worked on a broad range of issue campaigns including workers rights, transjustice, mass incarceration and policing, anti-racism, and disability justice, and been part of building international solidarity movements as well as hyperlocal grassroots community building.
Dana and her partner are East Coast transplants to Seattle who are raising their child far away from family and support networks, and deeply appreciate the domestic workers in their lives who make it possible to hold together a household and work full-time.
Dana began volunteering in 2019 with Hand in Hand, as a member of the Seattle Domestic Worker Standards Board. She is very excited to continue that work as the Seattle Organizer, and to keep building the domestic workers rights movement in Seattle centered around care, interdependence, solidarity, self-determination and dignity.
Contact Dana at [email protected]