Your donation will be matched by this grant. Donate today!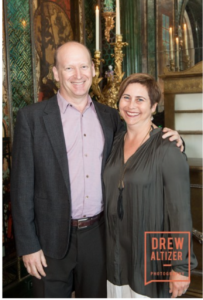 As longtime supporters of Hand in Hand, Gretchen and Jim Sandler are invested in a just and caring future that includes quality childcare, paid family leave, domestic workers' rights, and ultimately holding those with power and wealth accountable to our communities. That's why they've invested their resources in the domestic workers' movement and grassroots leadership of communities most impacted by inequality for so many years. All of us at Hand in Hand recognize Gretchen and Jim's leadership and partnership as important to our movement! 
Gretchen and Jim first learned about the domestic workers' movement in California in the early days of organizing for a California Domestic Workers Bill of Rights. They had already been supporting Mujeres Unidas Y Activas, a Bay Area-based community organization that is developing the leadership of Latinx immigrant women. 
When Mujeres Unidas joined with other domestic worker organizations in California to launch the California Domestic Workers Coalition to advance the Domestic Workers Bill of Rights, Gretchen and Jim were excited to contribute to building this women worker-led movement. Gretchen liked the "Mujeres model of developing member leaders and empowering them to launch campaigns." The Coalition brought together women leaders and their organizations across the state, following in the footsteps of domestic workers in New York who had won the first Domestic Workers Bill of Rights in 2010.  
Gretchen and Jim were also compelled by the organizing Hand in Hand was doing to include domestic employers to voice their support of the campaign.  As employers of a house cleaner, and in the past, child care workers and caregivers, Gretchen and Jim saw the opportunity to "do something personally as employers" to take action by being responsible domestic employers and treating their employees with dignity.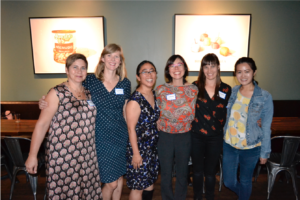 Gretchen shared how being a part of the movement has changed her to put the experience and needs of workers in the forefront of her thinking as an employer. "Just this simple idea – Oh, if we're going on vacation, we still need to pay our cleaner or nanny, because it is not their choice that we are going away for a week. We need to put ourselves in the employee's position." 
They also expressed a deep personal understanding of why domestic work is so fundamental to our communities. Jim shared, "When both my parents were going through their final weeks of life, it was emotionally intense for my whole family. Having a caregiver, with experience and knowledge, come in and create such an intimate kind of relationship was so powerful. They brought calmness and care and support when we were really incapable of doing things."
Gretchen and Jim have invited their friends and family to learn more about Hand in Hand and Gretchen has spoken out at the state and city level in support of bringing respect and dignity to domestic workers. 
Gretchen and Jim Sandler are committed to supporting organizations to grow their impact and base. That's why, in addition to offering robust and ongoing financial support to Hand in Hand, they are matching up to $15,000 in contributions from new members. Will you join them in growing our movement towards this vision of a just and caring future for all of us?