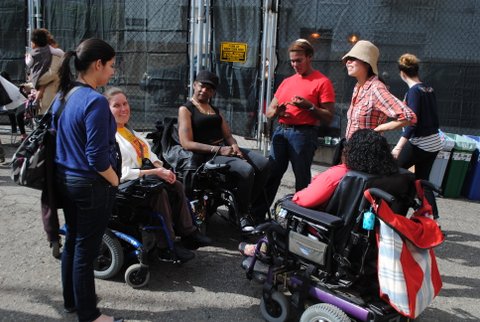 From family members stepping up to care for their loved ones, home care workers struggling to make ends meet, people with disabilities and older adults forced into poverty and who want to age at home but can't, too many people are struggling. Together, we can ensure that all of us can get quality, affordable care, when and where we need it and that homecare workers are treated with respect and dignity.
In New York
We are a movement of seniors, people with disabilities, family caregivers, and domestic and home care workers from all across the state.
Community based long-term care is the fastest growing sector of health care. Bur policies and programs have yet to catch up with our state's changing realities, and as a result, our families are struggling.
Those of us who cannot pay out-of-pocket for care are often sent against our will away from our homes and communities to nursing homes; our families are spending down generations of savings to pay for care for our loved ones and grappling with increasing caregiving responsibilities; and the people we often rely on to care for our family members struggle to get by on poverty wages.
We want to make home care affordable and available to all who need it, to create the quality long-term care jobs we need to meet our growing demand, and to defend basic and essential programs such as Medicaid, the Older Americans Act, and the Affordable Care Act.
All New Yorkers deserve the care we need to live full and healthy lives. Now is the time to change the way we care.
Read our full platform and see all coalition members: https://www.nycaringmajority.org
In California
California's chapter has been working on issues of affordability and dignified homecare—for workers and employers—since our founding.  
Many of our leaders and members are people with disabilities who must deal with a challenging system of Medicaid-funded homecare or who pay for homecare out of pocket and struggle to afford homecare.  We know, first hand, how undervalued homecare is – which hurts both worker and employer alike.
SUPPORT AT HOME: A FIRST OF ITS KIND MODEL  
In 2016, in partnership with our worker, senior and disability allies in the Care Council in Northern CA, including the CA Domestic Workers Coalition, Senior & Disability Action, Jobs with Justice SF, and others, we won $3.2 million for two years to start nationally unique program called Support at Home.
The program provides a sliding scale homecare voucher for upper poor seniors and people with disabilities (who don't qualify for homecare via Medicaid) to pay for up to 15 hours of homecare each week.  
A first study of the program indicates that it has helped prevent trips to the emergency room and funding has just been renewed for another two years.
UNIVERSAL HOMECARE IN CALIFORNIA
In 2017-18, working with the Nor Cal Care Council as well as our partners in Southern California, we set out to win universal homecare in the state – creating millions of great jobs for immigrant workers and ensuring that all Californians could live and age in the place of their choosing.   
In that time we've:
Made affordable homecare one of the top issues in the 2017-18 Governor's campaign through meetings with all of the top gubernatorial candidates with compelling testimony from our worker and employer members, being a regular presence at major campaign debates, and organizing our own campaign debate.
Helped to win $3 million in the CA State Budget to study the long-term care needs of the state, to give us the data we need to craft a realistic proposal for a long-term care/long-term supports (LTC/LTSS) and services benefit to help people stay in their homes and increase wages for homecare workers.
Helped grow a powerful coalition of senior, worker and disability organizations called the CA Aging and Disability Alliance that is fueling the work to win this LTC/LTSS benefit by 2021.
To learn more or get involved, email lindsay@domesticemployers.org
Partners: Pilipino Workers Coalition and Caring Across Generations; Faith Based Coalition of Southern CA; United Domestic Workers (ASFME); CA Foundation of Independent Living Centers (CFILC); Caring Across Generations