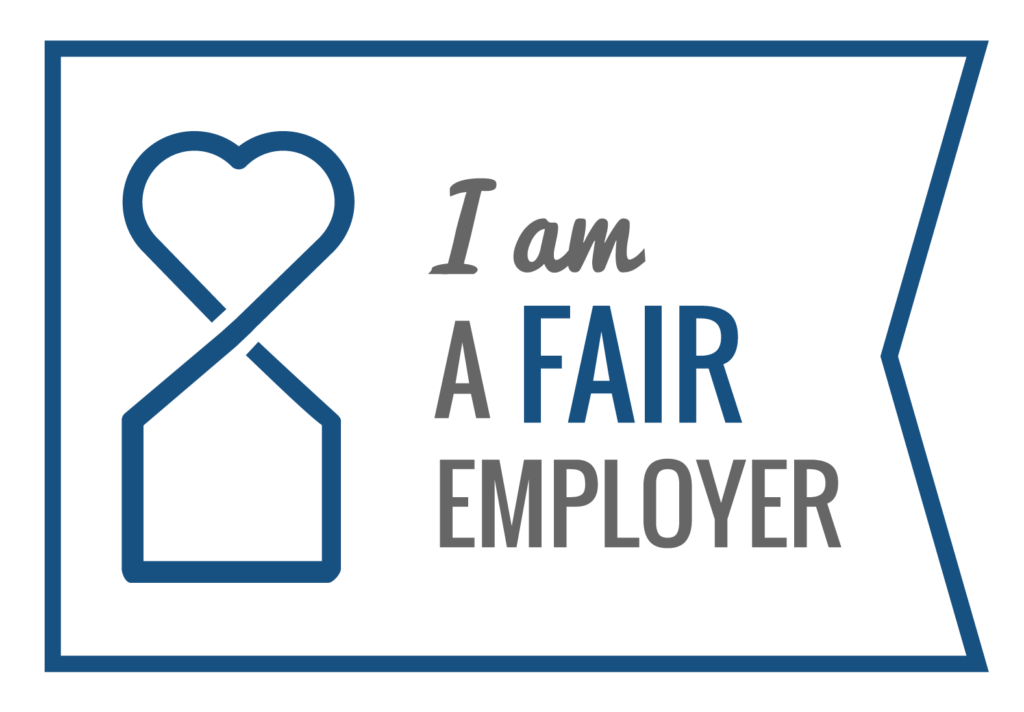 Is your home a good workplace for a childcare provider, cleaner, or attendant?
Let's bring the conversation about the domestic workplace out from behind closed doors and into our communities and the public square.
Like in any workplace, everyone benefits when employer and employee are treated well. But unlike other workplaces, there's no Human Resources manager at our kitchen table helping us figure out how.  
We want to make our homes workplaces we can be proud of.
The Fair Care Pledge is a way for individuals and families to affirm that we will do our best to be fair and respectful employers when hiring someone to work in our homes to clean, cook, assist, or care for members of the household.
The FAIR CARE PLEDGE says: I am committed to making my home a workplace that I am proud of. I pledge to be a respectful, clear, and fair employer.
The A, B, C's of Employing Someone in Your Home
By paying a fair wage and overtime, you are ensuring that your employee has what she needs to sustain herself and her family. For many, it can be a challenge to align what's fair with what we feel we can afford, but by offering the worker you employ the highest wage you can, you show how much you value their work and are reinvesting in your own household.
Here are some guiding principles around fair pay:
For housecleaner employers, a general guide for living wages in metropolitan areas is to employ a self-employed worker for no less than three hours per visit, and to pay no less than $25/hr for that time. This amount takes into account that some house cleaners often have long commutes between jobs and don't receive most benefits. The ALIA program [hyperlink for more information] enables employers to make a nominal contribution to a benefits fund for housecleaners.

For housecleaner employers, you should also consider the degree of difficulty of the work, such as the size of the home to be cleaned, and if there are any deep cleaning tasks such as cleaning an oven, fridge, baseboards, inside windows or in-between window panes or doing laundry. If you expect cleaning products to be provided by the cleaner this cost should be included in their compensation.

If you need​ ​to​ ​reschedule​ ​or​ ​cancel​ ​a​ ​cleaning​ ​appointment​ ​or are going out of town, consider that the housecleaner may lose opportunities to work with other clients if they are scheduled with you. Many cleaners are flexible with rescheduling as long as you notify them within a reasonable amount of time, usually 48 hours before the scheduled job. Decide on a timeframe that works for both of you, and commit to pay for their time if you can't meet your notification commitment.

For childcare providers and home attendants, in a metropolitan area, a living wage is at least $15/hr.

When calculating wages, consider the cost of living, and calculate what a living wage might look like in your area.

Provide (at least) annual cost of living (COLA) raises.

It is fair practice to increase a wage when responsibilities increase, for example if you have a second child.

If you employ a worker for very few hours per week, compensate your employee for transportation time.

Prepare to pay overtime pay (time and a half = 1.5 x the hourly wage) whenever your employee works over 40 hrs/week or over eight hours/day.

Workers should be entitled to a rest break after 3 hours of work, and at least a 30 minute meal break after 4 hours of work. These breaks should be uninterrupted. If it is not possible for there to be an uninterrupted break, the worker should be paid overtime during their break period.

Live-in domestic workers employed by private households should have 5 hours of uninterrupted sleep and written agreements before 8 hours of sleep can be deducted from hours worked.
Time off — including medical and sick leave — will ensure that your employee is rested and healthy and ready to do her job well.
Here are some guiding principles around offering paid time off:
For full-time employees, provide at least 5 paid sick days per year; and for part-time employees, 1 hour for every 30 hours worked.

For full-time employees, provide at least 2 weeks of paid vacation per year; and for part-time employees, 1 hour for every 30 hours worked.

Any un-used vacation should be paid out as additional pay when the worker leaves the job.

Provide the standard 8 paid government holidays or agreed upon holidays  of the employee's choice.

Try to provide at least one month of paid family or medical leave, with guaranteed employment upon return.
Find out about any additional laws and standards that apply specifically to your state.
Creating clear expectations, through open and respectful communication, is the foundation for the relationship between you and the nanny, cleaner, or homecare worker you employ, providing clarity on both sides for daily tasks.
Here are some important ways to create clear expectations in your home:
A mutually-agreed upon written work agreement, shaped by you and the worker you are employing, helps ensure everyone is on the same page about the job duties, benefits, and needs.

Regular check-ins provide everyone–you and the worker you employ–with the opportunity to share what has been going well, and areas that might need improvement.

Occasional reminders that you welcome any questions at any time–your door is always open.

Paying attention to the seemingly little things, like greeting your employee in the

morning, returning home on time, asking about her family, and thanking her regularly.
MAKING IT WORK FOR YOU
Every circumstance and every family is unique; that's why the Fair Care Pledge comes with a Checklist of best practices that recent and current employers developed together and in partnership with domestic workers to serve as a guidepost for employers.
RECOGNITION
At a White House convening on the future of work, President Barack Obama called it a "new tool to bring people together in today's economy."

Former President Bill Clinton recognized the Fair Care Pledge℠ as an innovative tool for building quality jobs and sustainable care at Clinton Global Initiative America

New York City Public Advocate Letitia "Tish" James

Brooklyn Borough President Eric Adams

New York City Councilor Brad Lander
Bend and Bloom

Melt Massage and Bodywork

For Your Birth

Change makers

Adhikaar

A Better Balance

Bend the Arc

Caring Across Generations

Caring Hands

Carroll Gardens Association

Center for Family Life

Congregation Bnai Jeshurun
Cornell University School of Industrial Labor Relations

CTZN WELL

Damayan

Golden Steps Elder Care Cooperative

Jews for Racial and Economic Justice

Kolot Chayeinu

Park Slope Jewish Center

REV Studios




Wider Opportunities for Women

Care.com, founding partner

HomeWork Solutions
Hiring online? Attract the best applicants with your Fair Care Badge!
If you pledge to follow the A, B, C's of fair care, you can add these badges to your profile on hiring websites or job postings you create. Let workers know that your home will be a workplace that will respect and value their labor.