About: Employers in New Jersey stand with the New Jersey Domestic Workers Coalition to demand a Domestic Workers Bill of Rights! Sign our petition today to show your support!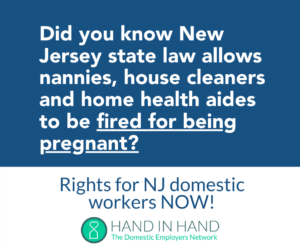 In New Jersey, the domestic worker industry is made up of mainly Black & Brown immigrant women. Due to economic conditions and the rising cost of living, more people live in tighter environments and during the pandemic, lower income communities were hardest hit with COVID-19. Domestic workers are often the first to lose their jobs and the last to get back to work.
But long before the pandemic, domestic workers in New Jersey have worked without even the most basic labor policy. The domestic worker bill of rights will ensure that nannies, home attendants, and house cleaners across the state earn minimum wage, earn overtime pay, and have the freedom to work safe from retaliation, harassment, and discrimination.
We can't win this campaign without you. Sign the petition now and join our movement to fight for domestic workers.