This post was authored by steering committee member Ariana Thompson-Lastad.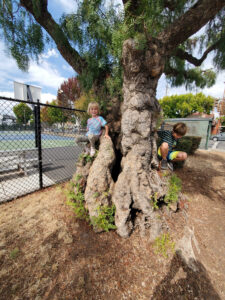 Is your little one ready to start school for the first time?  Congratulations!  If you've employed a nanny to take care of your kids, it is important to give them as much notice as possible to allow for a smooth transition and time to find a new job. 
Why it matters:
You've relied on them, they've helped your child thrive, and you've worked together to meet the individual needs of your child throughout their early development. You can demonstrate appreciation for all of this by making sure you give sufficient notice and show your appreciation. 

This is especially important because most nannies do not qualify for unemployment insurance, so are likely to be without income if they don't have enough notice to find a new position. 
What to do:
Ideally, you start the conversation at the beginning of an employment relationship about how long you expect to need care for your child and how much advance notice the nanny would prefer about any transitions. For example, a nanny might want to know a year in advance that children will start preschool. Many nanny positions start in summer or fall when the new school year begins.

Have periodic conversations about expected transitions, whether a change in schedule, number of children being cared for, or ending the employment relationship. If an unexpected transition is necessary for some reason, give as much notice as possible.

This is a personal and professional relationship so have these conversations face to face if possible.

In some situations, families are interested in transitioning from full-time care to more limited care schedules (e.g. aftercare or school vacations). Nannies may or may not be available to continue providing part-time care but it's worth a conversation to explore if a new schedule can meet everyone's needs.

If it's time to end the employment relationship

Provide severance pay

Base the amount of pay on their years of work with the family. (Hand in Hand recommends at least one week's pay for every year the childcare provider has worked for the family.) 
If you are unable to give advance notice: provide at least two weeks pay in addition to severance pay.
Provide a recommendation

A glowing and thoughtful recommendation can do wonders to help the childcare provider secure their next job. Make yourself available to answer reference calls from any prospective employers.

Offer to help with their search for their next job. Many families find childcare through personal networks. Hand in Hand members have supported childcare providers in finding new roles by reaching out to friends with young children, and posting on local listservs or social media groups for parents–if the childcare provider is interested in this, and with their permission.
Let your child know: 
Talk to your child or children in an age-appropriate way about the nanny relationship ending. Consider some kind of small celebration or acknowledgment of the transition. In my family, this was a gathering of the parents and children in the nanny share, where we ate special treats and gave the childcare provider framed photos of her and the children with drawings from the kids.
Ariana was a founding member of Hand in Hand in California, where she organizes employers of nannies and house cleaners and facilitates workshops for new parents. Outside of Hand in Hand, she has a PhD in medical sociology and is a postdoctoral fellow at UC San Francisco, where she does research on improving health care for low-income people and immigrants in the US. Ariana is the mother of two young children, and is a grateful, intermittent nanny employer.