This spring, Hand in Hand members from across the country joined hundreds of domestic workers to share their stories and tell Congress to pass a national Domestic Worker Bill of Rights.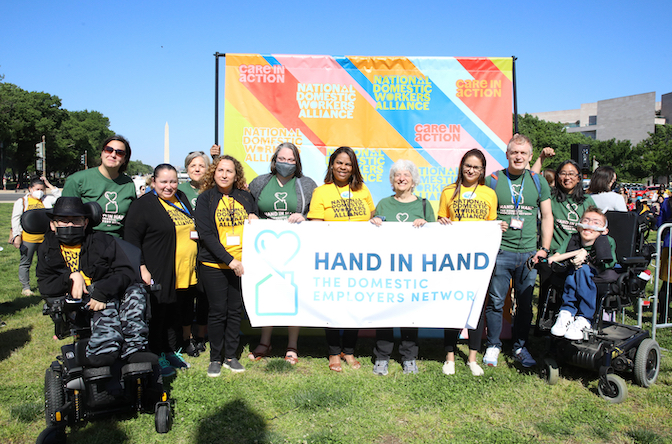 Why do we need a national bill of rights for domestic workers?
Domestic workers are one of the fastest-growing workforces in the nation, yet nannies, house cleaners, and home care workers earn poverty wages, and have historically been excluded from worker protections. As a result, they often have no benefits, few legal protections, and little recourse or mechanisms to enforce their rights. 
If you haven't already, you can show your support by signing our petition for a national Domestic Worker Bill of Rights.
Hand in Hand members explain that worker rights benefit employers too.
Hand in Hand members met with representatives to do the critical job of explaining why domestic worker rights benefit both employers as well as workers.
Hand in Hand member, New Jersey-based actor and comedian Steve Way spoke about the life saving role his personal attendants played during the pandemic.  "Let us make no mistake, home care workers are an essential workforce providing millions of people with disabilities and older adults with the care they need to survive, live, and age with dignity— which is why it is so important that they are paid fairly and have the same workplace protections as other healthcare workers. Their care is essential." said Way.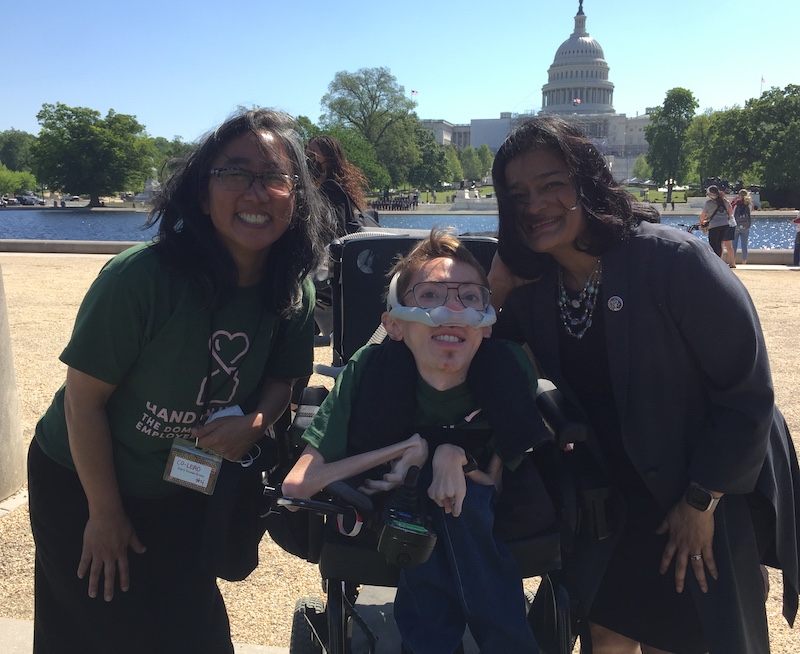 California Hand in Hand member Alyce Desrosiers who also runs a nanny placement agency explained that clear rights and guidelines lead to better care, more stability and less stress for families. "When domestic workers receive education, job training, and access to information about their rights, the quality of care in private homes is improved," she said.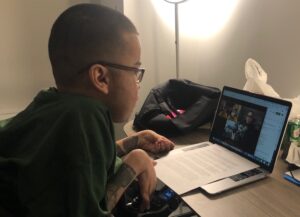 Member Jensen Caraballo talked about how poor wages and working conditions make it difficult for people with disabilities to find home care. "There is a shortage of workers across the country that is most severe in New York. Home attendants earn very little money for extremely intimate, physical, and emotional work, and many would prefer to work at jobs where they can earn more money for less taxing work. Passing the National Domestic Workers Bill of Rights is one way to encourage more people into this workforce" said Caraballo. 
Hand in Hand member Jordan Goldwarg from Seattle who met with Senator Murray's office had this to say, "as a house cleaner employer and member of the Seattle Domestic Worker Standards Board, I have seen first hand the impact of good quality jobs on the quality of care and support workers are able to provide."
Meredith Bogue, a family caregiver from Connecticut, who also employs home attendants for her two grandmothers also spoke about how it has been difficult for her family to find and retain care. "As a family, we have struggled to find homecare attendants who can offer consistent care with adequate wages. When we have hired through an agency, the agency keeps nearly half of the fee, and the worker earns barely minimum wage—certainly not enough for the level of care they are expected to perform. This is not minimum wage work, and it's not fair to treat it as such"  
About the National Domestic Workers Bill of Rights
After many years of domestic worker organizing (resulting in the passage of 12 state and municipal laws), the first-ever federal Domestic Workers Bill of Rights was introduced in the U.S. Congress in 2019, and reintroduced in 2021. This year Hand in Hand joins the National Domestic Workers Alliance to raise awareness for this critical piece of legislation, increase the number of cosponsors on the bill, while moving it toward eventual passage. 
Join the Fight, Take Action!
If you haven't already, you can show your support by signing our petition for a national Domestic Worker Bill of Rights and make sure you opt-in to receive updates for this important legislation!