In February, just a few blocks from where our Bay Area team used to work in downtown Oakland, a 71-year old Chinese grandmother was pushed to the ground and robbed. A Filipino man, Noel Quintana, had his face slashed in New York City. In early March, a man of Malaysian descent was punched in a subway station in New York City. On March 16, 2021, eight people, including six Asian women, were shot and killed by a vigilante in Atlanta Georgia. While the attacks are not directly connected, they are adding to the rise of anti-Asian violence, (2,800 cases, an increase of 150% over the last year) that Asian American advocacy and organizing groups like Stop Asian American Pacific Islander Hate have tracked.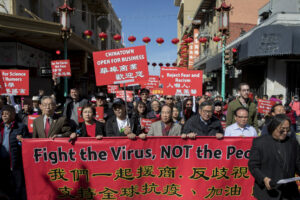 We at Hand in Hand join with these advocates in condemning the violence against Asian Americans across the country and stand in support of the survivors and families who have suffered loss and pain. 
The racist propaganda repeatedly promoted by our former President aimed at Asians Americans, including naming  COVID-19 the "China Flu," has contributed to this rise in anti-Asian sentiments and violence.  Trump scapegoated Asians while deflecting any responsibility for creating effective policies and programs to protect our communities during the pandemic. Over the last four years he followed a pattern of blame, dehumanization and vilification against targeted communities, Latino, Black, Muslim, Asian and Arab communities, and people with disabilities,leaving so many people fearful for their safety and lives.
The propaganda against Asians is also familiar to those of us who understand the long history of white supremacy in our country. Starting in the 1800's, the United States created policies to exploit the labor of Chinese and other Asians, while at the same time restricting immigration, creating segregated schools, forbidding property ownership, and during WWII, to incarcerate people of Japanese descent. Our country's racist policies against Asians contributed to a culture of violence, encouraging "civilian" attacks on Chinatowns in the late 1880s not unlike the horrific Tulsa Race Riots in the 1920s that destroyed a thriving Black community. 
Hand in Hand was founded to fight racism and systemic oppression. Moments like this remind us that we must continue to do the work to: 
Reckon with our nation's history of violent white supremacy by learning about the experiences of Asian Americans and other BIPOC communities,

Invest in community-based solutions and resources that support all vulnerable communities, including youth, senior and community programs,

Continue to support demands to defund the  police, and 

Hold our government, at all levels, accountable for keeping our communities safe from racialized violence and inequity.

Donate to organizations working to end

 violence against AAPI communities

 including:
To learn more about efforts to combat violence against AAPI communities, go to: Stop Asian American Pacific Islander Hate.