Seattle's tech boom is having consequences that trickle all the way down to childcare. Ethan Goodman, a Seattle local whose background is in software engineering and computer science, has seen it firsthand. And it was a familiar experience: Ethan grew up in the Bay Area, where he witnessed affordable housing disappear as the city grew increasingly wealthy.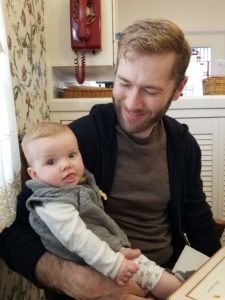 So six years ago, Ethan founded Tech 4 Housing, which engages the Seattle tech community in developing solutions to the city's housing crisis through education, policy advocacy, and organizing.
Given the large tech sector in Seattle, founding Tech 4 Housing was, to him, "an opportunity to engage more constructively, and be proactive" in bringing communities together to ensure fair and equitable housing policies.
But last year, when Ethan and his wife had their first child, they ran into a political, economic, and social issue closer to home: childcare.
At first they thought they'd set up what's called "a nanny share," an increasingly common arrangement where multiple families employ one nanny to provide childcare for their kids. "We started looking into it," he said, "But there were so many elements: You had to find another family and a nanny. Find and vet them … and my wife's return to work was coming up. So we said, 'Let's just do daycare.'"
Daycares famously have yearlong waiting lists, but a couple had spaces. Compared to the nanny share, it was relatively straightforward. Then came the bill. For Ethan's family, it was $2,900 a month. "We had her there for 5 weeks we decided we had to move. We couldn't make it work."
They went back to the idea of the nanny share. They met another family in their neighborhood that agreed to vet applicants based on "good personal connection, a feeling of trustworthiness, and good communication."
"We looked for the other family first, and they did all the work to bring in candidates, posting on job boards, looking at hiring services that take a fee and do the work around payroll and taxes … it would have been a lot of work to do ourselves. But it should be easier to follow the law."
Once they hired someone, Ethan led the process to set up the working agreement and payroll service for the nanny share. He explained, "While my wife and I are both in tech and struggle to make ends meet, we realized that if we cannot afford to pay our nanny in a legitimate way, who could?" In the state of Washington, poorer people pay a disproportionate amount of taxes compared to the wealthy. As a new employer, Ethan didn't want to contribute to this inequality.
Ethan and his wife wanted to make sure their nanny had access to Unemployment Insurance and Workers Compensation. They were prepared to pay for health insurance, but the nanny they hired already had existing coverage. Ethan explained, "I wish we lived in a country where everyone has access to health care. It's not morally right that people cannot afford a doctor."
Together, the two families in the nanny share also guaranteed paying for a 40 hour work week. Even though the parents in the nanny share all have different travel and vacation schedules, they did not believe it would be fair to leave the nanny without pay because of changes in their own calendars. Ethan explains: "I put myself in the shoes of someone being paid an hourly wage" and concluded that guaranteeing a paid work week was the right thing to do.
Ethan and his wife appreciate how their nanny sends photos of their baby regularly throughout the work week and is in good communication with both families in the nanny share. As someone who works for fairness and equity in his job, Ethan cared deeply about creating fair working conditions for the nanny who provides this essential care for their new baby.   
He's seen the jarring rise of income inequality and social displacement in the Bay Area in recent years and worries "it could be us in 10 years time." But luckily, he also believes that "the Seattle area is moving faster towards solutions than the Bay Area." Seattle, for example, has passed a citywide Domestic Workers Ordinance, which is the most progressive of all the city or state bills passed in the past decade.  
"In my Tech 4 Housing work I get people to use their political voice in support of solutions to homelessness. And it's a similar question for workers' issues. The tech workforce can be unexpected ally for workers: There are systemic power imbalances, but individuals tech workers can be a really powerful voice from inside the system."
—
As someone who is committed to being a fair employer, Ethan joined Hand in Hand as a member! You can join too.