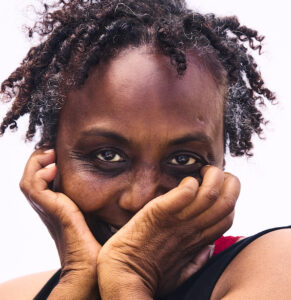 It is with heavy hearts that we share the passing of a beloved member of the Hand in Hand community. Engracia Figueroa, a fierce advocate for people with disabilities, passed away on Sunday due to complications from injuries she sustained when United Airlines destroyed her custom wheelchair last July.
Engracia was a member of Hand in Hand's California chapter, active with the Long Term Care and Support Services for All Coalition, and a Home and Community Based Services Storytelling Fellow. She was also the President of the Board of Communities Actively Living Independent and Free, an independent living center in Los Angeles, as well as an actor, animal rights activist, surfer and devout vegan. She was a joyful, fierce, creative leader.
Last July, Engracia represented Hand in Hand in Washington DC at the Care Can't Wait Rally and Communities of Care art installation to demand that Congress make investments in our broken home care system. She spoke alongside friend and home care worker Christine Laing, about the necessity of raising wages for home care workers and ensuring reliable, high-quality support for all. Together they advocated for making home care jobs good jobs, to both enable workers to support their families as well as to address the widespread workforce shortages, which often leads to forced institutionalization of people with disabilities and older adults.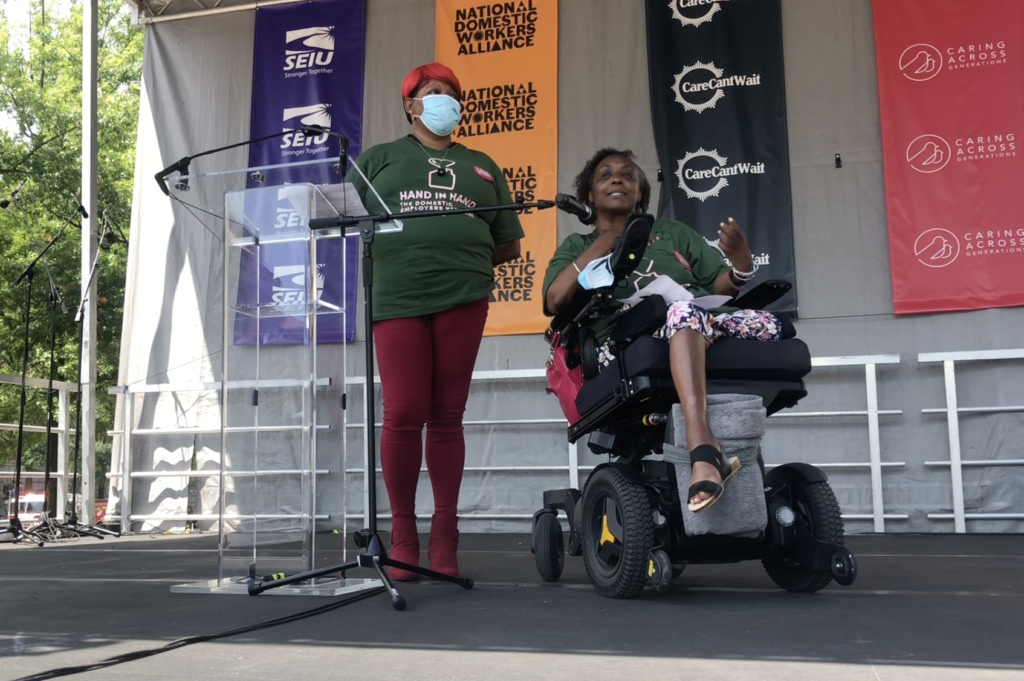 On the plane ride back from DC, United Airlines destroyed Engracia's wheelchair, which was custom-designed to support her spinal cord injury and left leg amputation. Engracia's wheelchair was critical to her independence, as well as essential to maintaining her health. 
Engracia and Christine were stuck in the airport for nearly five hours, during which Engracia was forced to sit in a broken manual wheelchair. Her struggle to maintain her balance over that length of time in the faulty device led to the development of a pressure sore. When she was finally able to return home, she experienced acute pain, and was admitted to the hospital shortly after.
Instead of replacing the demolished wheelchair, United Airlines insisted that they would only pay to have it repaired.  But a motorized wheelchair that has undergone that much damage poses a severe risk of fire, and is unsafe.  Furthermore, the loaner chair United provided further exacerbated her injuries. 
At Engracia's request, Hand in Hand spearheaded a media campaign against the company along with our partners at Caring Across Generations and support from the Care Can't Wait Coalition. Together we launched a petition that gathered over 2000 signatures, and Engracia's story was covered in multiple media outlets including ABC national news. Engracia obtained the support of Senator Tammy Duckworth's office, who also reached out to United Airlines on her behalf.
While Engracia did not ask for this fight against United, she felt she had a duty to bring awareness to this pervasive issue in the airline industry. On average, airlines damage or destroy 29 wheelchairs per day. As Engracia's story shows, the consequences of this ableism and mistreatment are devastating.  
Engracia said in multiple interviews, "Mobility devices are an extension of our bodies. When they are damaged or destroyed, we become re-disabled. Until the airlines learn how to treat our devices with the care and respect they deserve, flying remains inaccessible." 
Ultimately, United Airlines agreed to fully replace Engracia's chair valued at $30,000. However, the months in which they fought against the replacement took a toll on her body. 
While fighting with United to replace her chair, Engracia was forced to use a loaner chair that was not properly fitted to Engracia's body.  This further exacerbated her pressure sore, and caused muscle spasms, severe edema, and an inability to eat, as well as two additional hospitalizations.  The sore became infected and the infection eventually reached her hip bone, requiring emergency surgery to remove the infected bone and tissue.  Engracia passed away in the morning on Sunday, October 31st, 2021.  
All of us at Hand in Hand are heartbroken, shocked and enraged by Engracia's needless death. This loss should never have happened. While we are reeling from the layers of injustice this tragedy makes visible, we are holding Engracia's tenacity and resolve as our guidepost. Lives are at stake in the work that we do, and our current ableist and racist system continues to fail our communities time and time again. We cannot and will not stand by and let these systems of oppression prevail. 
We demand that United Airlines end the damage of wheelchairs and assistive devices on its flights and create an accessible process for people with disabilities to travel safely, with dignity. Sign and share our petition here.  
Please note: this statement was updated 11/5 after Hand in Hand received more details from Engracia's lawyer about the extent of her injuries.
From All of Us at Hand in Hand