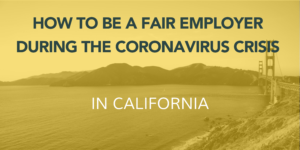 Many of us are anxious and scared about how the virus will impact us and our communities. While it's hard to know what will happen, especially as new information is released hourly, we do know that this virus is exposing many of the flaws and inequities in our system, from the need for universal health care coverage to a lack of paid time off for workers.  
Most domestic employers want to do the right thing when they employ someone at home. Being a fair employer means educating yourself about best employment practices, your legal obligations, and preparing your household for moments of crisis. Whether employing a nanny, house cleaner, or home attendant, something you can do is take measures to protect domestic workers and care workers, a workforce excluded from basic labor protections. (These measures often help us protect ourselves and our families too.) 
Hand in Hand: The Domestic Employers Network has prepared this toolkit of best practices for employers to protect the workers employed at their home.  We recognize that domestic employers are diverse in terms of race, class, age, ability, gender etc and have varying capacities to carry out these recommendations.  We welcome your thoughts and feedback on how to improve these recommendations. Email us at [email protected].
Find our New York Toolkit here.
Find our Washington state Toolkit here. 
Find our Pennsylvania Toolkit here.
Find our Massachusetts Toolkit here. 
Recommendations for All Domestic Employers
1.Before taking action, review this toolkit (including tips specific to your employer type below) and consider what actions you can take.
2. Have a conversation with the person you employ at home about Coronavirus and make necessary adjustments for this new reality. Together, set up new agreements to avoid any conflicts and impacts on their income. (Here are more tips for establishing open and respectful communication with workers in your home.)
3. Protect your employees' health and your household's health. If you need your employee to come to work, then:
Provide masks, gloves, soap and hand sanitizer

and give the worker an assurance that your

family will sanitize your home. 
If you or a member of your household is sick, tell your worker and protect your workers' health

by not asking them to work (if you can afford to) or honoring their request not to work.  If they do come to work, practice recommended social distancing guidelines for in the home (you can find some

here

), minimizing contact between the person who is sick and your employee.  

If you or members of your household have COVID-19 symptoms, get yourself and family-tested if that option exists.  Isolate the member of your family who is sick. Notify your employee and ask them not to come to work and provide them with paid time off.

If your employee is sick,

give them paid time off and assist in

covering health care costs

if you can.

If you are able, consider

paying for a taxi or rideshare to transport the workers home who may normally rely on public transit

.
4. If you can, provide extended paid sick leave. If you don't need your worker to come to work or if the worker becomes sick, provide them with paid sick leave.  In California, domestic workers are entitled to 3 days of paid sick leave and paid time off under state laws. [2] In the midst of this crisis, Hand in Hand recommends providing at least 10 days of paid time off, or more if you're able, for your employee to visit the doctor, or to stay home to care for themselves or their family members who are sick.
Find relevant California paid sick and other household employment laws here.

For other state and city laws,

review this resource

. [3]
5. During the state's "stay at home" order, provide paid time off for your employees: While childcare for people who are a part of the state's essential workforce and homecare for people with disabilities and older adults will continue, this new rule is aimed at minimizing contact and spread of the virus and should be taken very seriously.  For those employers whose workers are currently not coming to their homes and who can pay, we urge you to offer paid time off to your employees, so that they can shelter in place and continue to pay their bills.
6. Take action to support all Domestic Workers and our communities! See the list below for how to support new legislation that will support domestic workers' safety and labor rights, as well as how to donate directly to a Coronavirus Care fund for workers.
7. Become a member of Hand in Hand: The Domestic Employers Network! Join a national movement mobilizing people who hire nannies, house cleaners, and home care workers to bring respect and dignity to domestic workers and ensure affordability of care for our communities!
Specific Recommendations for Childcare provider, Attendant and Housecleaner Employers
For employers of childcare workers/nannies
If you are now working from home

, set yourself up for success –

avoid micromanaging or adding new supervision in the worker's day

. Your home is already their workplace. While you adjust to working from home, set yourself up to maintain their work structure as usual.

If you are in a

nanny share

, consider these options: 

Be sure you and the other employing family are on the same page BEFORE talking to the childcare provider about what Paid Time Off (PTO) already exists in your work agreement, how much PTO is left for the remainder of your agreement, and what additional PTO you're willing and able to offer.

Consider setting up one home for the childcare and the other home as the place where the parents work, to minimize disruption in both the children's care and the parents' work.

If you are concerned about exposure to the childcare provider or from the childcare provider and have the work flexibility to do so, place the childcare provider on paid leave and have the parents take turns caring for the children. 

Here is a

sample work agreement

for nanny shares to create a temporary change in the agreement and offer paid time off created by one of Hand in Hand's Bay Area members.
For employers of home attendants
Adjust your schedule

to stay at home as much as possible to avoid crowded areas to reduce your exposure and your employees' exposure. Some ways to do this are by rescheduling or canceling non-essential appointments and by getting supplies or groceries delivered. (

In shelter-in-place counties

, non-essential travel and appointments are not allowed.  Our read of the new requirements, allow for attendants and loved ones to travel to support those they provide personal assistance for.)

If you have multiple attendants and one is sick, ask the person who is not well to stay home and ask your other attendants to cover their shifts to minimize everyone's exposure. This will also help the sick attendant get better.

Have attendants continually wash their hands and wear gloves as much as possible to keep everyone safe.  (See other health and safety tips above.)

If family members or those that live with you are available,

not in a high-risk group, and able to do your routine, consider checking in about whether they are able to fill in for sick attendants or cover your shifts, to enable your attendants to stay home.

For folks with disabilities in the East Bay that need additional help during this crisis-including attendant services-, the

Disability Justice Culture Club

has set up a mutual aid request form, linked

here

. 
For employers of house cleaners 
House cleaners are tasked with a lot, and more under the current circumstances. When you discuss sanitizing your home with them, be sure to cover the following topics: 

What to sanitize and how. See detailed guidance

here

.

Prevent mixing chemicals that create a toxic environment

. For example, be careful with the excessive use of bleach, and avoid mixing some chemical products with wipes that have a high content of VOC or mixing ammonia and bleach.

Provide added protection

such as gloves and goggles

for workers who are sanitizing homes

.

Masks are currently

only

recommended for people who are not well. 

Compensate cleaners for the added work of sanitizing a home on top of cleaning it. 

Have a flexible cancellation policy and if you need to cancel,

pay for canceled appointments.

(

In shelter-in-place counties

, housecleaning will likely be deemed a non-essential service and so housecleaners will be forced to forego work.  Pay your employee their normal monthly wages to the degree you can, to allow them to continue to support themselves and their families.)

Provide a flexible schedule to optimize travel during low-traffic commute times.
Take Action and Support Policies to Protect Your Worker
Support our policy campaigns and join in solidarity with communities of color, low-income people, seniors and people with disabilities who are particularly vulnerable at this time.
Legal Obligations under CA State laws

CA Paid Sick Time Law
Domestic workers in California working more than thirty days are entitled to paid sick leave at the rate of one (1) hour for every thirty (30) hours worked.  Employers can limit sick leave to 24 hours or three days a year. [4] Unused sick leave carries over to the next year.  Sick leave can be used to attend to the employee's own medical needs as well as those of his or her children, spouse, parents, siblings, grandchildren, or grandparents. It can also be used for specific purposes if the employee is a victim of domestic violence, sexual assault, or stalking. Some cities, like San Francisco, have somewhat different sick leave policies  (In-Home Supportive Services (IHSS) workers are entitled up to 2 full days or 16 hours of paid sick leave as of January 1, 2020. Details here.)
Paid Family Leave
CA Paid Family Leave (PFL) provides benefits to individuals who need to take time off work to care for a seriously ill child, parent, parent-in-law, grandparent, grandchild, sibling, spouse, or registered domestic partner. Benefits are also available to new parents who need time to bond with a new child entering their life either by birth, adoption, or foster care placement. California's paid family leave policy pays approximately 55% of a worker's weekly wages for up to six weeks in a 12 month period.  To be eligible, workers must have had State Disability Insurance payroll deductions made on at least $300 in wages for the base year of their claim.  Employers are responsible for withholding the SDI payments from the employees' paychecks. More information on Paid Family Leave in CA can be found at the Employment Development Department.
CA Unemployment Insurance
Unemployment Insurance pays benefits to Californians who lost their job through no fault of their own and are ready and willing to work (as well as meet other eligibility requirements).  Domestic employers who hire and pay a domestic worker at least $1,000 in wages in a single calendar quarter are required to pay Unemployment Insurance (UI) tax and Employment Training Tax (ETT) on each employee's wages up to the UI taxable wage limit, each calendar year.  More details can be found on the EDD website.
CA Disability Insurance
Disability Insurance (DI) is a component of the State Disability Insurance (SDI) program. It provides partial wage replacement benefits to eligible California workers who are unable to work due to a non-work-related illness, injury, or pregnancy. SDI contributions are paid by California workers through employee payroll deductions.  Like Paid Family Leave, domestic employers are responsible for withholding the SDI payments from their paycheck. California DI benefits are payable for a maximum of 52 weeks.  More details on the state's DI program, go to the EDD website here.
CA Workers Compensation
Workers' compensation benefits provide medical care and compensation to workers who have a job-related injury.   Domestic employers are required to obtain worker's compensation insurance. In CA, most homeowners insurance companies will provide you with this coverage as a rider to your homeowners policy.  Similarly, it can be purchased as a rider to one's renter's insurance policy. The general rule is that CA employees have the right to workers compensation if they work at least 52 hours for their employer within the 90-day period before being injured and earned at least $100 within that 90-day period.
CA Wage and Hour laws
All workers are covered by basic wage, hours and other labor laws, regardless of immigration status. These include: 
Payment of minimum wage; 

Payment for all hours worked; 

Payment of overtime pay, which is 1.5 times the regular hourly wage for every extra hour

worked over 8 hours in one day or 40 hours per week [5]; and

Notice of rate of pay, hours worked, regular paydays, and statement of earnings and

deductions for each pay period. (This should be provided by the employer.)
More details can be found here.
Rest Breaks
All domestic workers except personal attendants have the right to: 
One 10-minute rest break for shifts from 3.5 to 6 hours in length

Two 10-minute rest breaks for shifts of more than 6 hours and up to 10 hours

Three 10-minute rest breaks for shifts of more than 10 hours and up to 14 hours

Authorized rest periods are counted as hours worked and must be paid.

On-call or on-duty rest breaks are not permitted. You must be relieved of all duties during the rest period.

Employer must pay one additional hour of pay at the employee's regular rate of pay for each workday that there is a rest break violation
Meal Breaks
All domestic workers except personal attendants have the right to: 
One 30-minute unpaid meal break for work periods more than 5 hours; a second meal period of 30 minutes if the work period is more than 10 hours in a day.

An employee may agree in writing to take an on-duty meal period only when the nature of the work prevents the employee from being relieved of all duties. The employee can revoke the agreement anytime. The on-duty meal period must be paid.

An employee who works only 6 hours per day or less can waive the meal period.

If an employee's total work time is no more than 12 hours per day, the second meal break may be waived as long as the first meal period was not waived.

Employers must pay one additional hour of pay at the employee's regular rate of pay for each workday in which the employee is denied their right to meal breaks.
________________
[1] Shelter in place information here indicates that essential services include home care for people with disabilities and older adults, and childcare, so they are allowed to continue under the new rule. https://www.theguardian.com/world/2020/mar/16/california-coronavirus-shelter-in-place-bay-area http://www.acphd.org/media/559661/alameda-county-press-release-20200316.pdf
[2] Privately employed domestic workers are covered under California's paid sick time law.  All employees including part-time employees earn 1 hour for every 30 hours worked. You can allow the use of up to u 3 days or 24 hours per year).  These paid sick hours can be used after 90 days of employment. We recommend waiving the 90 day wait period during this crisis. More at: https://www.cadomesticworkers.org/know-your-rights/paid-sick-sick-days/
[3] San Diego city law explicitly permits a worker to use sick time when their place of work or child's school/place of care is closed by public health officials for a public health emergency. In the rest of California, while it is not a legal obligation to permit your worker to use sick time under these circumstances, we strongly encourage you to allow your worker to use their sick time in this way.
[4] Employees can accrue more but employers can limit how much can be used in a year to 24 hours.
[5] More information on overtime pay can be found at https://www.cadomesticworkers.org/know-your-rights/right-to-overtime/