Hand in Hand is pleased to partner with Caring Across Generations on a month-long ad campaign, "Portraits of Care,"  consisting of billboards and video projections in Times Square and around Washington, D.C. The campaign spotlights the beauty and joy of caregiving, and features photo portraits of Hand in Hand members, including people with disabilities, aging adults, care workers and family caregivers.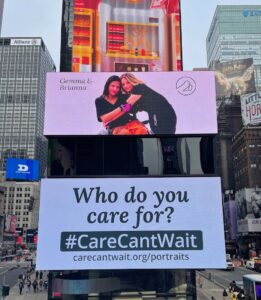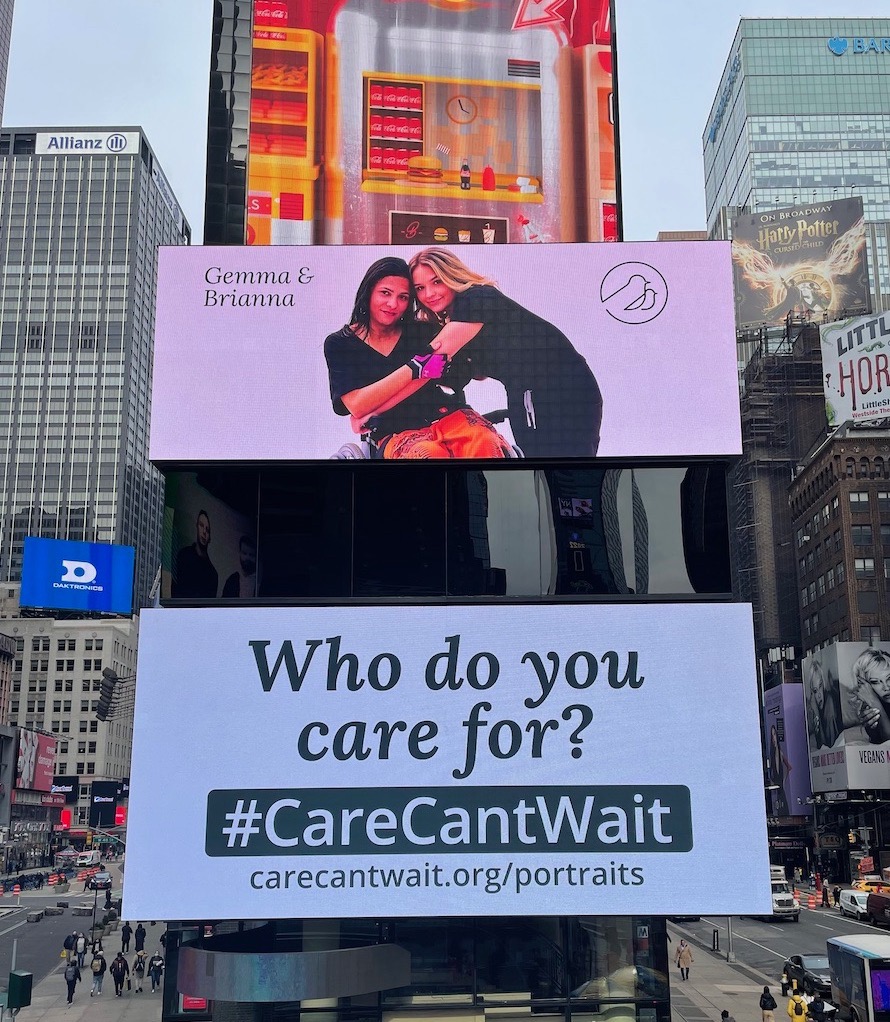 The images in the campaign were captured by renowned photographer Shayan Asgharnia as part of the Communities of Care art installation commissioned by Caring Across Generations and created by artist activist and Women's March co-founder Paola Mendoza. The ads include a link to a webpage where people can listen to audio interviews of the care teams sharing their care experiences—their joys, the intimacy, as well as the anger and frustrations.
Participating Hand in Hand members come from New York and California chapters, where we are doing some of our most innovative organizing work around long-term care. Through the New York Caring Majority coalition, the Fair Pay for Home Care campaign is working to address the home care workforce shortages in New York State, which are the worst of any state in the country. The coalition is fighting to pass the Fair Pay for Home Care Act, which would eliminate the home care workforce shortage in less than five years, keep older adults and disabled people safe and out of nursing homes, and bring 200,000 new home care workers into the field. 
"New York faces the worst home care shortage in America—and the shortage has left tens
of thousands of aging adults and disabled people without the care they need to live – forcing many  into dangerous nursing homes," says Ilana Berger, Hand in Hand's New York Director. "The facts are clear: only family-sustaining fair wages will keep home care workers from continuing to flee the sector."
"If New York pays home care workers a fair wage, the state could quickly wipe out the home care shortage, create hundreds of thousands of new jobs, and save the state money by moving home care workers off of social assistance," continued Berger.  "Fair Pay for Home Care has bi-partisan support and Democratic majorities in the State Senate and the Assembly because our elected officials know we cannot wait another day—we must end the home care crisis now."
In California, Hand in Hand is building and facilitating the only grassroots Coalition
inclusive of older adults, people with disabilities or chronic health conditions, family caregivers—past, present and future—and professional caregivers in the state.  The Long-term Services and Supports (LTSS) for All Grassroots Coalition is committed to building a safetynet so everyone Californian can get the support they need to live, age and work with dignity. 
This year, the coalition is working on two complementary campaigns, the first is the "Time for $20" campaign to increase wages in the states' Medicaid-funded home care program, and the second is to pass legislation that would move the state closer to establishing a social insurance program, similar to unemployment or social security, that would help all Californians pay for their homecare and other LTSS costs.  These parallel campaigns will help strengthen the existing LTSS safetynet as well as expand it.  
"Currently 40,000 elders and people with disabilities who are eligible for California's MediCaid homecare program, IHSS, are going without.  Low wages and high living costs have contributed to a workforce shortage that has left too many people without the support they need to live safely and with dignity in their homes.  Focusing investments into higher wages for IHSS providers will attract more people to the field of homecare and enable existing providers to support themselves and their families," said Lindsay Imai Hong, Hand in Hand's California Director. 
The call to reform the home care system is happening throughout the country. Elected leaders in Washington D.C. are negotiating changes that could mean hundreds of thousands of more people can get the care they need across the lifespan, including long-term care and paid leave. 
"The pandemic has underscored how essential care is to our families and our economy," said Ai-jen Poo, executive director of Caring Across Generations and National Domestic Workers Alliance in portraits of care press release. "Yet, care work is still undervalued and unrecognized. We just take for granted that women in our families will take care of us, without accounting for the cost to them or the underpaid care workers who support them. We must invest in care so that people with disabilities and family caregivers can remain in the workforce, rather than have to choose between financial security and their own wellbeing, or the health of their loved ones."