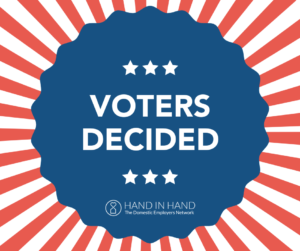 We did this together. We came out in record numbers in this historic election. We rose up against hate, exclusion and racism and demanded change.
Whether we were working to get out the vote, to pass local legislation, to support the workers we employ, or doing essential care work, together we have shown the world that the fate of our democracy rests on achieving equity, respect and dignity for everyone in our communities— including domestic workers, immigrants, Black people, people with disabilities, seniors, and families.
THANK YOU
To those who have made calls, sent texts, knocked doors, and written postcards.
To those who made voting plans with their communities, showed up against voter suppression and defended the polls.
To those who provided childcare and other support to those who needed it to volunteer.
To those who shared important information on social media, who participated in virtual events and safely attended in-person actions.
To all the parents and caregivers who are raising their children to be engaged, conscious and caring citizens.
To all the nannies, house cleaners, and home attendants that provide us with the essential care and support that allows us to live our lives with dignity.
A special thanks to our members and staff who have worked so hard over the last few months including…
Elana Bauer, Dana Barnett, Tatiana Bejar, Ilana Berger, Doug Boeschen, Eileen Boris, Sascha Bittner, Ginny Browne, Kathy Coll, Carol Corcoran, Amy Cohen, Michael Gast, Margie Guggenhime, Vanessa Cuellar, Amy Faulring, Cecilia Livesey Freedman, Amanda Branson Gill, Elspeth Gilmore, Kate Goka, Liz Greenspan, Shaleece Haas, Maxwell Hellman, Evelyn Ho, Lindsay Imai Hong, Julie Hua, Marie Imai, Jeanne Imai, Jessica James, Angela Jemmott, Angelica Jongco, Vicki Kaplan, Rabbi Jim Kaufman, Gayle Kirshenbaum, Nicole La Porte, Andrea Lee, Jessica Lehman, Irene Lin, Lian Hurst Mann, Diana Morales, Sarah McKinstry-Wu, Joyce Nakamura, Carolyn Norr, Tessa Petrich, Tara Polansky, Maggie Potter, Blithe Riley, Gretchen Sandler, Molly Seligman, Elaine Shelly, Kayla Shore, Mike Silverman, Alisa de los Reyes, Sara Sanderson, Erica Sklar, Ian Steinberg, Reha Sterbin, Misa Takaki, Ariana Thompson-Lastad, Jen Tilson, and so many more.
We also invite you to learn more about our partner organization Caring Majority Rising that engaged over 150 more volunteers!
We also want to thank our organizational partners including Bend the Arc: A Jewish Partnership for Justice, NDWA, Caring Across Generations, Movement for Black Lives, Election Defenders, Hold the Line, Philly We Rise, and all the countless grassroots organizations that brought joy to the streets, and helped ensure every vote was counted.
Our work is not over, it is just beginning. We look forward to visioning and building with you in the months ahead— to hold our elected leaders accountable, to reverse the oppression and exclusion that has ruled our lives for the past four years, and to demand an agenda that has care, equity and fairness at the center.
With appreciation and gratitude,
Stacy