Hand in Hand member Dr. Michelle Hernandez passed away on December 26th from complications from cancer.  We will miss her dearly.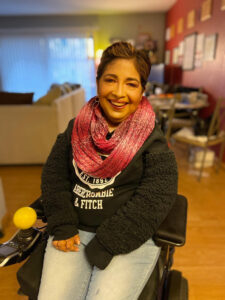 Dr. Michelle Hernandez, wore many hats, titles and honors and she was also a long-time member and leader within Hand in Hand.   Dr. Hernandez was the first disabled, Latina clinical psychologist in CA.  She served on the Mayor's Commission for Persons with Disabilities in Oakland, California, the Board of Easy Does It Emergency Services, the Policy Advisory Committee for the Metropolitan Transportation Committee, and the Public Authority Advisory Committee for Contra Costa County. She was Miss Wheelchair California in 2018 and even did stand-up comedy at the Sacramento Women's March with Nina G!  The list goes on.  As you can see, she was a POWERHOUSE!
Dr. Hernandez joined Hand in Hand in 2016 after many invitations from her good friend Nikki Brown-Booker, one of Hand in Hand's founding members.  We remember her saying, "now I know why Nikki kept inviting me!"  Michelle wanted to join our movement because as an attendant employer, she believed attendants deserved to be treated with dignity and respect.
Dr. Hernandez joined Hand in Hand's Education team and co-led a training on ableism and disability for dozens of leaders in the domestic workers movement in the Bay Area and also participated in Hand in Hand's Home & Community Based Stories Fellowship.  She was a consistent member of the Attendant Employers and Allies Committee where she would regularly provide insight, advice and a listening ear to other members who also employ personal care attendants. 
Dr. Hernandez was a force of positivity, humor and love.  She would listen more than she would share, but when she did, it was always something that made us think, made us laugh, or showed us that she heard us.  She made every meeting and event more fun and joyful. 
The last time many of us saw Michelle in person was on July 13th 2021 at an action in downtown Oakland focused on passing Biden's Build Back Better with a massive investment in Medicaid Home and Community Based Services.  She had been dealing with a number of health issues and when she arrived she said "Don't tell anyone I'm here! I'm not supposed to be doing something like this in public, using public transportation, but I couldn't help myself- I needed to come."  That was Michelle- someone who wouldn't let life stop her from doing what she wanted, championing issues she cared about fiercely- like disability justice and gender rights- and living life to the fullest.
It is impossible to imagine that Michelle won't be joining our zoom calls or actions again.  We are less because of her absence and our Movement has lost a quiet warrior with her passing.  
May you rest in peace and power, Michelle.  
*Hand in Hand will be hosting an informal zoom gathering for our community to share stories of Michelle.  If you would like to join, please sign up here.