This Women's History Month, Hand in Hand in partnership with the NYC Department of Consumer and Worker Protection, the NYC Commission on Human Rights, and the National Domestic Workers Alliance, launch a new education and implementation initiative for employers of nannies, house cleaners and home attendants. Through webinars, individual consultations, and written resources, the program will teach domestic employers about their obligations under city and state laws and best practices to make their homes fair workplaces. Join our email list to get the latest updates about this series.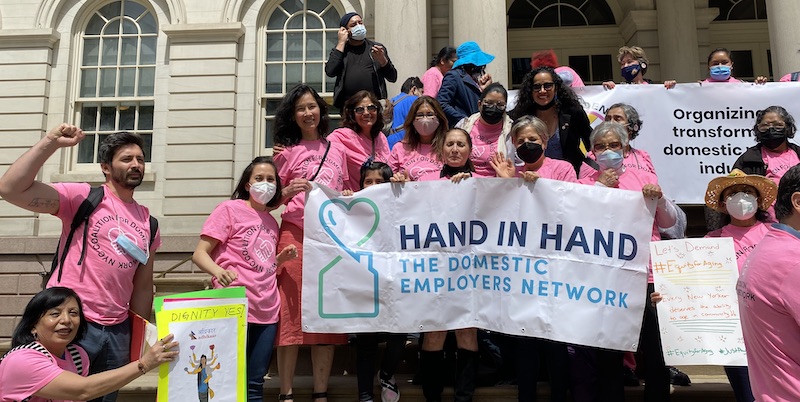 Hand in Hand members and Domestic Workers advocating for education funding in the city budget
Last year, Hand in Hand, as part of the New York City Coalition for Domestic Work, won funding from the City Council for this initiative. Hand in Hand is committed to reaching at least 10,000 domestic employers in 2023 through the program which will include free webinars, individual consultations, written guides, and toolkits on how to be a fair domestic employer in New York. Below is a list of webinars in the series.
2023 Domestic Worker and Employer Empowerment Initiative Webinar Series
---
March 16th: Hiring a Nanny 101: Creating a Work Agreement
Many New Yorkers hire a nanny to provide care and support for their children in their homes. Hiring a nanny is such an important decision, and we want the working relationship to be positive. Developing and maintaining clear communication is key to developing a long-lasting, mutually beneficial working relationship, and the best way to do this is through creating and maintaining a written work agreement.
Additionally, many laws in NYC and NYS protect domestic workers. This webinar will go over how to create a written agreement that ensures you comply with the law, as well as that includes best practices to make your home a fair workplace for the nanny you employ.
Register Here: https://tinyurl.com/hihnycmarch16
---
March 30th: Employment in the Home: Taxes and Paying on the Books
Tax season is here! This webinar goes over everything you need to know about paying on the books and taxes for the nanny, house cleaner or home attendant you employ in your home.
Register Here: https://tinyurl.com/hihnymarch30 
---
April 20th: Incorporating Paid Safe & Sick Leave into a Work Agreement 
Domestic workers in New York are entitled to five paid sick and safe days per year. Paid time off is essential to the wellbeing of the worker in your home and also for the health and safety of your family. Learn how to incorporate a paid safe and sick leave policy that both abides by the law and is flexible in the case of emergencies or a national health crisis like COVID-19.
Register Here: https://tinyurl.com/hihnyapril20 
---
May 11th: Transitioning out of childcare? Best practices for ending work with a nanny.
Learn about best practices and tips about how to implement a fair termination policy to prevent unjustified firings and ensure a fair severance package when your family is transitioning out of childcare.
Register Here: https://tinyurl.com/hihnymay11 
---
June 8th: Planning for Summer: Providing Time Off for the Person you Employ at Home.
Summer is coming, and many families have started planning their vacations. Learn about best practices when providing paid time off for the person you have at home.
Register Here: https://tinyurl.com/hihnyjune8 
---
July 13th: Difficult Conversations: Addressing Grievances with the Worker in Your Home
At this webinar, you'll learn tips to create a work environment with respectful and open communication with the person you employ at home and opportunities to engage in a mediation program.
Register Here: https://tinyurl.com/hihnyjuly13  
---
September 14th: Monitoring a Nanny: What is Legal and What's Right
The use of technology such as cameras and apps has become common to ensure your children are safe at home under the care of a nanny. We'll discuss what is allowed under the law and what practices fall under gray areas that may harm the employment relationship.
Register Here: https://tinyurl.com/hihnysep14 
---
October 12th: Maintaining Relationships: Long-term Connections Between Children and Nannies
We'll hear from children raised with a nanny at home about their feelings, memories, and the emotional connection that led to the long-term relationships with nannies who played such an integral role in their lives.
Register Here: https://tinyurl.com/hihnyoct12  
---
December 7th: Ensuring your Home is a Workplace Free from Discrimination
On International Human Rights Day, we celebrate the human rights laws that protect us all. Learn about the steps you need to take to ensure that the process when hiring a domestic worker meets local and state human rights laws and the practices you can implement to ensure your home is a workplace free from discrimination.
Register Here: https://tinyurl.com/hihnydec7
---
What people are saying about the series
"I congratulate Hand in Hand for reaching out to employers of nannies, domestic workers, house cleaners, and home attendants to initiate education about the industry standards for their employees. Hand in Hand is a unique organization made up of wonderful individuals who care about the world around them and want to make it a better place for everyone. The free webinars, toolkits, resource material, and good conversation will enable employers and employees to be better colleagues. In 2003, I passed the first law to give some rights to nannies and other domestic workers, and the same extraordinary employers supported it. Congratulations to Hand in Hand for launching this program during Women's History Month!" said Council Member Gale Brewer, who championed the initiative in City Council, and who represents many domestic employers in her district.
"So many New Yorkers and their families rely on domestic workers to help care for their loved ones and homes, but many of these workers are denied basic workplace protections, like the right to Paid Safe and Sick Leave," said DCWP Commissioner Vilda Vera Mayuga. "Thank you to Hand in Hand for working to inform domestic workers of the rights they are entitled to and working with employers to ensure they understand the obligations they have to the workers employed in their homes."
"For far too long, domestic workers, who are essential to New York City, have been denied workplace protections and have faced barriers to vindicating their rights," said Annabel Palma, Commissioner and Chair of the NYC Commission on Human Rights. "Domestic workers are vital members of the workforce that support so many other sectors of the economy. In 2022, domestic worker protections were explicitly recognized in the New York City Human Rights Law. The Commission is proud to contribute to education initiatives that promote protections for domestic workers. Education and outreach are effective, valuable tools to ensure that all New Yorkers can live, work, and thrive, free from discrimination."
"As a national organization that supports domestic employers, we understand how confusing it can be for people looking to hire care and support in their homes for the first time. For those who already employ domestic workers, it can be challenging to stay current with legal requirements as laws change. Education and outreach are essential to ensuring that policy becomes implemented and practiced. This program is designed to provide all the support employers in the care sector need to ensure their home is a fair workplace", says Tatiana Bejar, New York City Lead Organizer at Hand in Hand: The Domestic Employers Network.
"Over 2 million households in New York State and 1 million in New York City employ domestic workers for child care, house cleaning and support for older adults and people with disabilities, and other essential services. The domestic workers who do this work are overwhelmingly women, people of color, and immigrants. Education is key to ensuring that both domestic workers and employers know their rights and obligations under the law. This program will be key into raising standards for domestic workers in New York," said Marissa Senteno from the National Domestic Workers Alliance
Elizabeth Wyner, a Park Slope nanny employer and Hand in Hand member said, "Domestic employers need all the help they can get to do right by the domestic workers who work in our homes. Having these free webinars, guides, and toolkits available help us understand and comply with employment laws and make us better employers."