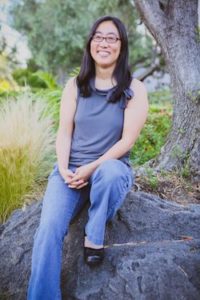 We're thrilled to announce that on June 4, Stacy Kono will be joining Hand in Hand as our Network Director.
Stacy will bring her years of leadership development and organizing experience to Hand in Hand as we aim to build a national network that has deep roots in our communities and broad reach across our country. As Network Director, Stacy will focus on keeping Hand in Hand strong and nimble. We're proud that we've been able to nurture diverse projects and campaigns in many communities–to get resources to Fair Care employers; to secure affordable, accessible support in the home; to establish "sanctuary homes" for immigrant workers and neighbors–and, under Stacy's leadership, we'll be building an increasingly responsive, sustainable network that generates the ideas, connections, and campaigns that we all need
Stacy comes to us from the Rockwood Leadership Institute, where she has served most recently as Director of Programs and Practice. Hand in Hand will greatly benefit from Stacy's varied skills as a strategic thinker, capacity builder, staff developer, fiscal manager, fundraiser, and organizer. Prior to Rockwood, Stacy worked at Asian Immigrant Women Advocates (Oakland, CA), where she managed the national Garment Workers Justice Campaign, advanced a worker health and safety initiative, and built an immigrant youth program.
"The work of Hand In Hand feels very personal to me, because my grandma was a domestic worker – one of the only jobs she could get as an Asian immigrant woman in the Bay Area in the fifties," says Stacy. "When I was in college, I was an attendant to a man with cerebral palsy, helping him in the morning to get ready for his day. And more recently, my dad was nurtured back to health with the help of a health care attendant, Reynaldo. But this work also feels very political. In a time when our country is divided, organizations like Hand in Hand are lifting up our interdependence and inspiring people to value caring – as work but also as a value."
Stacy will be joining an expanding staff team that values innovative and collaborative leadership. We are very happy to announce that Ilana Berger, who has served as our Director since 2015, will remain in leadership at Hand in Hand, bringing her robust vision to the role of Organizing Director. We are so grateful for all that Ilana has done to move Hand in Hand forward and for her continuing commitment to building this movement.
"I am so excited to spend more time on our day-to-day organizing and to be working with Stacy," says Ilana. "Over the past few years, Hand in Hand has grown in our geographic reach and in the breadth of our campaigns. This growth has happened because in this political climate, increasing numbers of people have felt the urgency to build a society whose bottom line includes care and support for ALL of us. Yet our growth has stretched us. Stacy is the perfect leader for Hand in Hand in this moment–she will help us build a strong, enduring organization that supports our ability to pursue ambitious campaigns that push back against our society's trend toward toxic individuality. Wait till you meet Stacy–I know our community will be as inspired by her as I am!"
We celebrate our dedicated member-leaders and hardworking staff from across the country who served on our Hiring Committee and are helping to shape the next era of Hand in Hand– along with our new National Steering Committee.  
As we welcome Stacy, we feel immense gratitude for our members who are making the change we seek more possible every day.