This pandemic has laid bare the many inequities of our care system in a whole new way. In March, many domestic workers, the very workers who care for individuals and families in their homes were, suddenly laid off, left without income or a safety net. Parents, seniors, and people with disabilities who depend on daily support in their home experienced the fear of exposure to the virus but also the threat of being without support at home. 
Join us as we continue to respond to the urgent needs of the moment, as well as help us build our long term work to transform our system of care so that it works for everyone long after this pandemic is over.
---
Sign the Pledge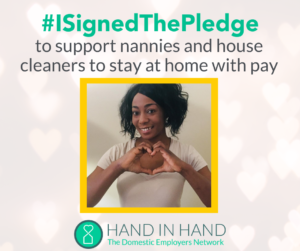 Join the movement of domestic employers who have committed to pay workers they employ even as workers  so they can #StayAtHomeWithPay to keep their families safe. Our federal government continues to ignore the domestic workforce, leaving most workers without relief checks or unemployment, despite the essential role they have played in our homes and families. (Millions of people being left to fend for themselves) 
Now is the time for you as a domestic employer to act with care, and show your worker that they can count on you. While some of us are feeling economic anxiety at this time, it is essential that you do whatever is possible and necessary to continue paying the home attendant, housecleaner, or nanny/childcare provider.
Nearly 1000 domestic employers nationwide have committed to continue paying their workers by signing our pledge. If you have not already, add you name to the list!
---
Donate to the Coronavirus Care Fund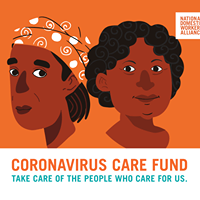 The Coronavirus Care Fund is an initiative by the National Domestic Workers Alliance to providing emergency assistance for domestic workers that enables them to stay home and healthy. The money you donate to the Coronavirus Care Fund will provide immediate financial support for domestic workers, and enable them to stay home and healthy — protecting themselves, their families and their communities while slowing the spread of the Coronavirus.
Please note: The Coronavirus Care Fund offers emergency assistance, it is not a replacement for lost income. The best thing you can do to support the worker you employ that is staying at home due to COVID-19, is to sign the Pledge above and keep paying them.