Mother's Day has always been one of my favorite holidays.  I wanted to be a parent for nearly as long as I can remember, and since my children were born nine and seven years ago, parenting them has provided some of the most challenging, meaningful and joyful experiences of my life.  But Mothers' Day feels especially big this year, both on an individual and collective level.  
As a mother of two school aged children who have been attending school remotely for more than a year, the pandemic has been deeply disruptive to my family in ways we are only just beginning to understand, let alone recover from.  Yes, there have been joys of spending time together—more time for drawing, baking, hiking and baseball—but most of this year has been defined by loss and the absence of what we really need.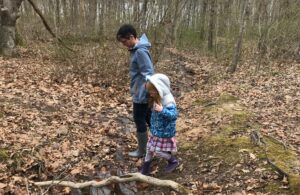 My children need time with friends and adults other than their parents.  They need the structure and challenge of school.  And as a working mother, and part of a household of two working parents, I need the support of more caregivers. 
Raising children has always been a collective effort.  Whether parents rely on schools, daycare, extended family or domestic workers to help raise children, we know we cannot do it alone.  Yet the pandemic has forced us to isolate and disengage from our support systems.   And this act of separation, especially for parents of young children, has put us on a collision course with ourselves—one where we have been asked to do some of the hardest parenting of our lives.
Mothers everywhere love our children as fiercely as ever.  We are exhausted and depleted by being left alone for  much of this year.  And now we are acutely aware of what we have always known, that our society has to do better by our children and better by us.  We need high quality schools for all children to attend, every day.  We need affordable, accessible childcare.  We need living wage jobs so that one job is enough.  We need care for aging loved ones.  
As Hand in Hand's Organizing Director, this Mother's Day I invite you to express your gratitude to all the mothers who have weathered the challenges of this year by sharing this graphic below on Facebook.  Because as Hand in Hand Seattle member Hannah Lidman recently said, "parents and families simply cannot continue to bear the sole burden of caregiving when it is actually a communal responsibility and we have the resources to solve the problem together as a society."