With bipartisan support, SB 686: The Health and Safety for All Workers Act has made it to Governor Newsom's desk in California! If passed, this bill will grant workplace health and safety protections to domestic workers and day laborers, the only workers excluded from these protections in the state.  
This year, our fight for domestic worker health and safety has been marked by a deep solidarity from domestic employers. It has been marked by courageous, creative, and tireless leadership from domestic worker leaders. And, it has been marked by deep organizing and thorough research, which resulted in powerful legislation that centers the needs of low-income domestic employers, especially people with disabilities and older adults.
The campaign crescendoed on August 29th, when hundreds of workers, employers, and allies flooded Sacramento and the legislative building for a day of action. That day, we joyously, powerfully declared that we would keep organizing until we ended the racist exclusion of domestic workers from California's occupational health and safety law and made every home a fair and safe workplace.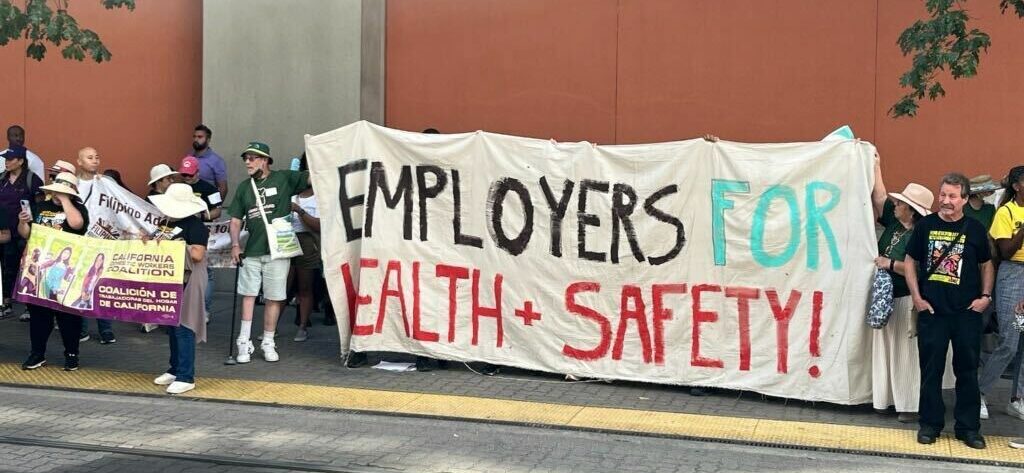 Our Bill Passes the State Senate & Assembly but is Amended
Because of the tireless work of all of these leaders, we passed out of the California State Senate and State Assembly and on to the Governor, where we are waiting for his signature. We are determined to keep fighting to get this bill across the finish line.
However, we also have some disappointing news to share. 
Our bill had three key provisions:
End the exclusion of privately employed domestic workers from health and safety protections

Expand funding for domestic worker and employer education & outreach

Create a financial and technical assistance fund for low-income domestic employers to cover health and safety-related costs
On September 1, the Assembly Appropriations Committee amended SB 686 and eliminated the financial assistance program for low-income private domestic employers. They did so without consulting the author, Senator María Elena Durazo, or the sponsor, the California Domestic Workers Coalition (CDWC). 
This came as a shock to the CDWC and Hand in Hand. We've since learned that the Appropriations Committee often "cleans up" bills by removing elements that don't already have funding allocated in the state budget.
Peeling off the financial assistance for domestic employers is not a clean-up. It erases a key provision that makes this legislation possible to implement, particularly for low-income people with disabilities and older adults. 
Please note that all people receiving state-funded homecare services like In-Home Supportive Services and Community Living Support Services from Regional Centers would be exempt from any changes made by SB 686. So this amendment impacts "the missing middle," those whose incomes are just high enough to be disqualified from public support, but who struggle to afford the out-of-pocket costs of homecare. The amendment also disproportionately impacts Black people, indigenous people, and other people of color with disabilities who have reduced access to publicly funded services.  
Our Long-Term Commitment
We refuse to let the Appropriation Committee's action divide the disability and worker communities at a time when solidarity is needed more than ever. Hand in Hand members, leaders, and staff are committed to ensuring that low-income domestic employers get the financial assistance they need to comply with the law if it passes – with the full support of the California Domestic Workers Coalition. 
We are committed to creating policies that support the dignity and safety of both the worker and the employer. Yet, we know from our years of experience that we don't always achieve all of our goals with each year of campaigning. That is why we keep coming back, showing up, and doubling down on our commitments to our values and each other.  
This week, we will be using our voices as employers on social media, calling on the Governor to sign this bill. Beyond this week and this campaign, we will keep building our movement. Our fight for full inclusion in health and safety laws for domestic workers is a long-term fight that requires a system of supports that make it possible for all domestic employers – especially low-income, disabled, and older employers – to be able to make their homes safe for their employees and themselves.
We are all in this together, and we are so grateful you are here with us.