Earlier this month, we asked California Hand in Hand member Vicki Kaplan, long-time organizer and GOTV mobilizer, to share her expertise on starting voting conversations and how she became involved with Hand in Hand. For more tips on starting voting conversations, check out Hand in Hand's Voter Conversation Guide.
How did you get involved with Hand in Hand?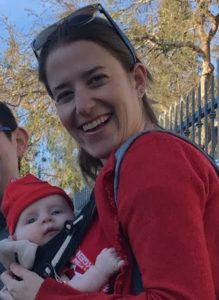 I attended rallies in 2012 to pass the California Domestic Workers Bill of Rights, and helped organize Playdate Protests with Hand in Hand in Massachusetts in 2017 and in Los Angeles in 2018. During that latter protest, I was on maternity leave with my baby strapped to my chest while I led children and their parents in songs of "Up Up with Liberation, Down Down with Deportation!" 
Now, my family employs a full time nanny for our daughter and I've really leaned on the Hand in Hand community to navigate how to be an ethical and just employer, and to advocate from that experience for systemic change in solidarity with domestic workers who are organizing for their rights and dignity. 
As a college student I also learned about how domestic workers and farm workers were left out of laws passed in the 1930s to protect workers, because at the the time, most farmworkers and domestic workers were Black, and the people who worked to pass New Deal policies made deals with Southern lawmakers to exclude Black people in exchange for winning progress for white workers. This history of systemic racism made a big impact on me and I began to see how that exclusion has led to today's inequalities.
As domestic employers, how can we engage with the workers in our homes about voting?
As someone who has been involved with get-out-the-vote efforts for some time, each election I make a list of people that are on my "voting team." These are people that I will take responsibility for being their "voting buddy"— that is making sure they have the information they need to vote. In the past, people on my list have included my mother, my sister-in-law, and our nanny.
How do you approach conversations around voting?
I think the key to approaching a conversation around voting and politics is establishing good rapport and communication. Rather than view these subjects as "taboo," I have thought of them as ways to deepen my relationships. Just talking normally about the election and asking simple questions like—"Have you been following the election?" "Do you know of anyone who is voting for the first time this year?" "Are you thinking of getting involved in the election this year?" can be great ways to have someone open up about the issues they care about, their voting plans, and questions they might have about voting. 
Can you give an example?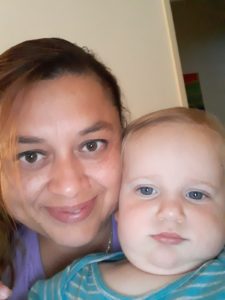 Sure! I'll share my own story about talking with our former nanny Heidi. During the 2020 presidential primary in California, I asked Heidi if she was following the election and what she thought. While Heidi is a regular voter, she told me that she hadn't been following the primary election too closely, but that her kids had been very engaged. She told me her daughter Kimberly was about to turn 18, and was excited to vote for the first time. Her 12-year old was also interested, and Heidi asked me if I would be willing to talk to him about the election and candidates he was interested in. I of course agreed! 
Now that our connection about voting had been established, a couple of weeks later, I checked in with Heidi and asked if Kimberly had been able to register to vote. She shared that she hadn't for some reason, and then the deadline had passed. Her daughter was really disappointed as was Hiedi.
A few days later I learned that California had just changed the voter registration laws, and had extended the voter registration deadline to include same-day registration for the primary! I texted Heidi immediately. She was excited about the news, and on Election Day she went with her daughter to the polls to register and vote! 
The truth is, you never really know how somebody is going to respond. Most of the time, I've found, people like to be asked their opinion about candidates and issues, but sometimes they don't and that's okay too! The important thing is to try and take that first step. It's really important not to make assumptions about people's voting habits or their eligibility. 

Vicki Kaplan is a member of Hand in Hand, and an organizer, activist, and campaigner committed to movement-building and anti-racism. She is currently the Organizing Director at Dayenu, and served as  Organizing Director and campaigner at MoveOn from 2012-2020 where she oversaw organizing programs, mobilizations, and election campaigns that engaged and developed the leadership of tens of thousands of activists. Prior to MoveOn, Vicki worked with communities around the country to shut down dirty coal plants, was a labor and human rights organizer in the midwest, and campaigned to protect water as a public resource. Her organizing work has been featured in the Washington Post, the Wall Street Journal, and the Los Angeles Times. She lives in her hometown of Los Angeles, California with her spouse and toddler.