Hand in Hand is excited to announce the launch of Home and Community-Based Stories, a storytelling and organizing fellowship for those who both need and provide home care in California. This fellowship brings together people with disabilities, older adults, family caregivers, and homecare workers to deepen their organizing and storytelling skills— with the intention of doing the urgent and brave work to transform the Long-Term Services and Supports System (LTSS) in California and our nation.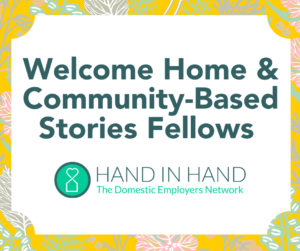 Over the course of six weeks, participants will partake in online sessions co-led and designed by educator, author, organizer, and public speaker Felicia T Perez, who brings her knowledge of "Narrative Strategy" to guide this fellowship. Additionally, Hand in Hand members Lian Hurst Mann, Elaine Shelly, Nate Bresnick, Natalee Decker, and Ligia Montano will serve as coaches. By the end of the sessions, participants will have the skills to tell their "personal care stories" strategically and powerfully with a clear goal in mind, such as taking action around legislation or engaging in community organizing.
The Home and Community-Based Stories Fellowship is made possible by a generous contribution from the Metta Fund.
Please join us in welcoming our inaugural fellows, and we look forward to sharing their powerful care stories!
Angela Jemmott
Arianne Campbell
Bhumit Shah
Carmencita (Menchu) Daz
Carrie Madden
Constance Barker
Cristina Ragas
Cynde Soto
Dr. David Moore
Engracia Figueroa
Gillian Fallon
Gloria Aguirre
Hannah Karpilow
Ibsyn Cadavez
Janie Whiteford
Judy Jackson
Julienne Fisher
Kholoud Rashid
Marigrace Diaz
Mary-Anne Manley
Dr. Michelle Hernandez
Nancy Krebs
Susan Friedman
Tess Brillante
Thomas Manley