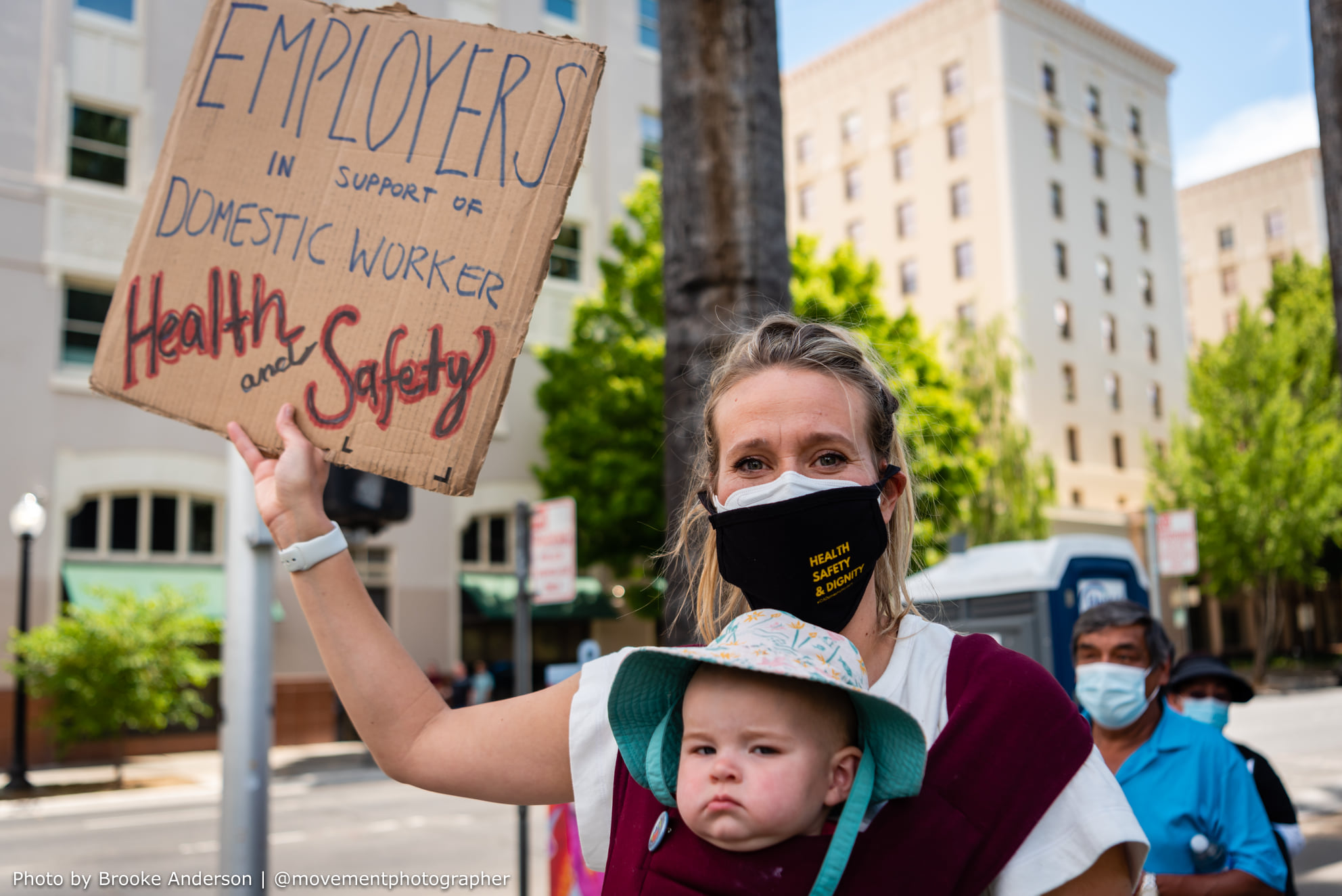 Ten years ago, New York employers of nannies, house cleaners and home care workers joined low-income Black and immigrant women of color domestic workers to pass the first Domestic Workers Bill of Rights in the country. 
From this victory, a bold vision arose of domestic worker employers across the country mobilizing to contribute to a just and caring economy that starts in our homes and communities. 
Today, Hand in Hand has become the only national organization harnessing the power of domestic employers and family caregivers to make sure that everyone receives the care and respect we need to live whole lives with dignity. 
CARE IS INFRASTRUCTURE
 "[Infrastructure] is not only about roads and bridges… it's about care.  ….We want to create an economy in which care is readily available for all those who need it. We want to ensure that caregivers are treated with dignity and respect. " – Vice-President Kamala Harris at the Care Can't Wait Summit
Among the unimaginable losses our country has experienced during the COVID pandemic, the loss of support in our homes exposed the critical role that domestic and care workers play in so many people's lives. 
Our new Administration recognizes that care work is a part of our nation's infrastructure. That all families must be able to afford child care and homecare to participate in our economy. That investment in care work, by Black, immigrant and women of color, will fuel our economic recovery and national healing.  
Our movement has the opportunity now to advance our values of interdependence, equity and dignity. Now is the time to build our future. 
OUR GOAL: RAISE $8 MILLION OVER FIVE YEARS
Hand in Hand's work is about social transformation: confronting our country's legacy of slavery and combatting the systemic injustices that lead us toward individualism and isolation instead of interdependence. Domestic worker rights sit at a critical nexus point from which to address the old and build the new.
Hand in Hand is raising $8 million over the next five years to build our capacity to:
Expand our organizing to demand family supporting wages and benefits for the 2.5 million domestic workers nationwide

. 

Serve as the leading, national resource for domestic employers in every state to create fair and safe working conditions in their homes. 
Organize workers, older adults and people with disabilities to solve the growing crisis of affordable long-term care and the need for fair pay for home care.
JOIN US.
You are critical to the success of this campaign in this opportune moment. Join us as we realize this bold plan during our 10th anniversary.
You can help us reach our goal by making a multi-year financial contribution, a legacy gift, or inviting others to join you in supporting us.
Make an online contribution here.
Please make checks out to: 'Bend The Arc' and write 'Hand in Hand' in the memo line and mail to: Bend the Arc, PO Box 1320 Seneca, SC 29679 (please note this temporary address during Covid)
Contact us at [email protected] for wire or stock donation details or to learn more.
Hand in Hand: The Domestic Employers Network is fiscally sponsored by Bend the Arc, EIN#: 52-1332694