On Memorial Day weekend, community, faith, labor leaders, medical professionals, and activists gathered across New York State to hold simultaneous socially-distanced vigils at hard-hit nursing facilities where 5,500 residents have died from COVID-19. Organized by Hand in Hand as part of the NY Caring Majority coalition, these actions are part of an ongoing campaign to demand more protections for nursing home workers, to improve state regulations, and to invest in home care services, a much safer alternative to these tightly packed facilities.
Sign the petition to demand that Governor Cuomo take urgent action to protect nursing home workers and residents, and build a system that places care over profit.

Leaders gathered outside nursing homes in New York City, Long Island, the Hudson Valley and the Capital Region, staying 6 feet apart and wearing masks. Candles were lit for each life lost, and signs and banners read "Nobody is Disposable" and "Residents and Workers: You Are Essential to Us." Dozens of at-home vigils were also held over the weekend.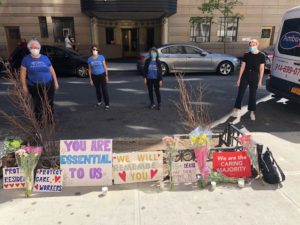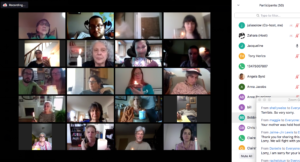 Bobbie Sackman of the NY Caring Majority said, "Nursing homes across New York have been a disaster in waiting for decades. Lack of safe staffing, poor infection control, and constant Medicaid cuts by Governor Cuomo have left thousands of elders, people with disabilities, and staff at-risk. New York State treats wealthy owners of for-profit nursing homes as its 'customer', not the residents and families. Testing and safe surroundings for residents is essential. Protection and dignity for workers providing testing, Personal Protective Equipment, paid sick leave, enhanced pay and robust staffing are essential. This inhumane system is screaming out for change as the coronavirus shines a light on all this."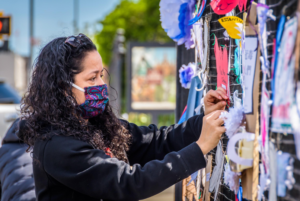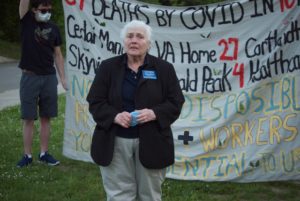 In the News
These actions got the attention of numerous press outlets across the state and also received coverage on the Rachel Maddow show (clip at 37:50).
"Riverside Drive Vigil to Honor Lives Lost in Nursing Homes" by Mike Mishkin, ilovetheupperwestside.com
"Statewide virtual vigil to honor nursing home residents who died from COVID-19″, News 12 the Bronx
"Traditional Memorial Day Ceremony is Canceled, But A Covid Memorial Vigil Will Be Held", West Side Rag
"AP count: Over 4,500 virus patients sent to NY nursing homes," by: Bernard Condon, Jennifer Peltz, Jim Mustian, Johan Sheridan, Spencer Tracy, ABC News Channel 10
"Ulster County small businesses get $120M in first round of federal aid program" by Patricia R. Doxsey, The Daily Freeman