DC Domestic Workers Make History! 
On December 20, 2022 domestic workers in Washington D.C. made history by winning a domestic workers bill of rights. This makes the 13th bill that has been won by the power of domestic worker and employer organizing. Congratulations to our partners at National Domestic Workers Alliance and our members at Hand in Hand on another victory!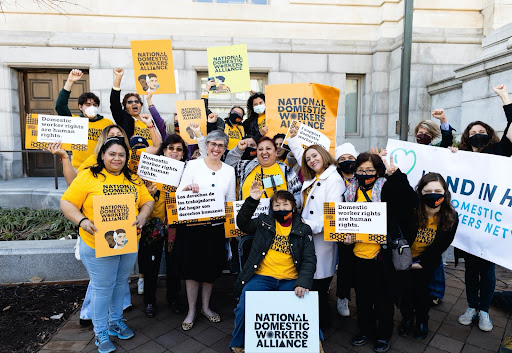 Until now, domestic workers in D.C. lacked basic protections in their workplaces, allowing them to be subjected to potential abuse. This win codifies into law what many of us already know: it is absolutely fundamental and essential to include domestic workers in our labor and civil rights laws– to ensure they have protections against discrimination and harassment as well as safe and healthy working environments. 
Our movement, led by powerful domestic workers and supported by employers organizing with Hand in Hand, has been fighting for these basic workplace rights for more than four years. It was long past time to protect and support the domestic workers in Washington D.C.
Domestic employers played an important role in winning
From the beginning of this campaign, employer support played a critical role. Council members advised our coalition to make sure that supportive employers made their voices heard throughout the campaign, and Hand in Hand members did just that. Employers met with council members in nearly every ward, joined our hearing to testify both in person, virtually, and even from a chemo treatment room in the hospital. 
Erika Sklar, Hand in Hand's National Organizer reflected, "Council members shared their concerns and questions with employers locally and from other places that have passed similar policies, including Philadelphia. We visited their offices numerous times, sent emails, and supported workers in town halls, vigil actions, and press conferences. I am so proud of Hand in Hand's contributions to this campaign."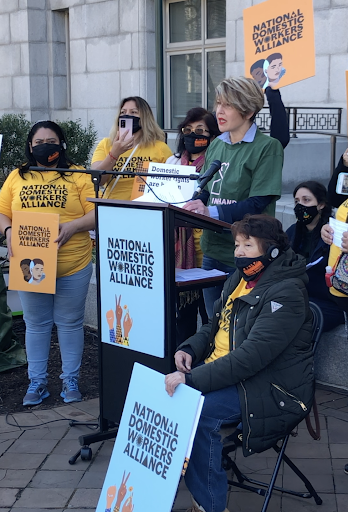 While this campaign was led by domestic workers, employers had an important role to play in winning. Our presence ensured that lawmakers couldn't use the excuse that we often hear— that giving domestic workers rights is too burdensome for employers. In fact, we know the opposite is true, guidelines and standards mean better working relationships, higher quality of care, and better health and safety practices for all.
Caroline Davis, a house cleaner and former nanny employer testified about the crucial role that domestic workers play in our economy;
"The reality is that domestic workers are a key part of what makes our city's economy work. Without these essential workers many other people – predominantly women – would not be able to participate in the workforce. Domestic workers have always been a critical piece of the labor ecosystem in the United States and it is the darkest parts of our history that explain why domestic workers are not currently afforded the rights and protections of other workers" she said.
What is in the DC Domestic Worker Bill of Rights?
The bill

ends the exclusion

of domestic workers from

human rights protections

and

occupational safety and health protections

. Domestic workers now have the same protections as other DC workers;

It

requires written agreements

between domestic workers and hiring entities. This means the district will publish a model agreement to ensure workers know their rights and employers are aware of their responsibilities; and

The bill establishes a

Domestic Work Outreach and Education Program

within the Department of Employment Services (DOES). DOES will collaborate with organizations that

work with domestic workers and employers to provide education and training on labor standards in the industry. 
This legislation is part of a larger movement
Home care workers, nannies and house cleaners have historically been excluded from basic labor protections. In the 1930's, when our labor laws were formed, domestic workers and farm workers- an overwhelming Black workforce at the time-  were omitted from these laws as a concession to racist white southern lawmakers. This legacy of slavery continues to impact domestic workers to this day who continue to be poorly paid, lack benefits and economic security and are susceptible to discrimination and abuse.
Low wages and lack of protections have also created a nationwide workforce shortage crisis. Domestic and care workers are leaving the industry for better paying jobs. Across the country, people with disabilities and older adults in particular are struggling to find the care and support they need  to remain in their homes and communities. 

Ten states, two major cities,  and now the District of Columbia have passed domestic workers bills of rights to right these historic wrongs. This is due to the relentless leadership of domestic worker organizing and employer solidarity. Yet, federal recognition and comprehensive protection for this workforce is long overdue.
That's why we are working towards winning a National Domestic Workers Bill of Rights, which will establish rights for millions of home care workers, nannies and house cleaners throughout the country. 
Additionally, to address the specific crisis in home care, we're also working to raise the wages of home care workers through state campaigns in New York and California, and fight for federal investments in home and community based services.