This year, my child entered kindergarten, a time of so many firsts. Not the least of which has been planning our first round of summer camps and childcare.  There is so much to consider! Balancing costs, the endless camp enrollment options (that fill up fast), vacation plans, work schedules, and hiring a childcare provider. Not to mention creating contingency plans in the event of another COVID-19 case surge. Thinking through options, and finding the right situation takes so much time and advance planning! We hope this post will help offer you some guidance.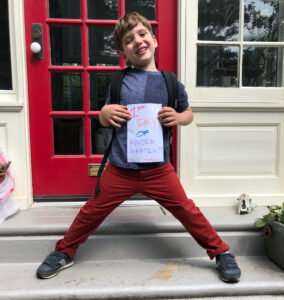 Working with a childcare provider during the summer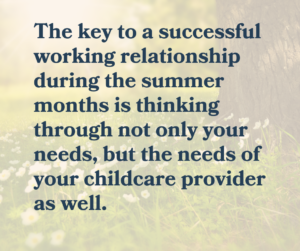 Many of us choose to employ a nanny or caregiver, whether it be full-time, or part-time in tandem with summer camp.  The key to a successful working relationship during the summer months is thinking through not only your needs, the needs of your childcare provider as well.

For example, if you plan on working with the same childcare provider year-round, make sure that their rate of pay and hours are consistent.

In 2019 we interviewed Lee, a Hand in Hand member from New York, who at the time employed a childcare provider Kathy for 10 hours per week during the school year. She described the agreement she and Kathy worked out during the summer months (this interview is still  as relevant as ever!):

"We employ her [Kathy] for ten hours a week all summer, just like the rest of the year. She gets to take two weeks off when she wants, and if we are taking the kids out of town other times, she gets extra paid time off during those weeks. A lot of summers she may only actually work four weeks."

This agreement may sound surprising, but it works to both Lee and Kathy's advantage: Lee's family's costs are fixed and predictable, and so is Kathy's income from this job. 
Synching Vacations

Initiating the conversation around vacation schedules as early as possible is key if you are hoping for you and your childcare provider's vacation schedules to overlap. If you can't make your schedules sync, be sure to budget extra money for supplemental care while your childcare provider takes their paid vacation.

Interested in asking the nanny or childcare provider you employ to travel with you and work while you are on vacation? See our post entitled 4 Ways to Travel Respectfully with a Nanny.
What if I can't afford to pay for childcare all summer? 
If, say, you didn't plan your childcare provider's salary during the summer into your family budget, or absolutely can't make it work, you must accept the possibility that your childcare provider may not be able to return to work for you. 
For example, even though Lee budgeted and aimed to employ Kathy during the summer, in some years, there were exceptions. Sometimes it has just been too complicated or expensive. "One year, she needed more time off in the early summer, but we were taking a special, really long family trip at a totally different time."
So what happened then? Well, they started the conversation early and revisited it often. Ultimately they agreed that Lee would not employ Kathy during the summer, but guaranteed that Kathy's job would continue once school started. And Kathy had ample time to look for extra summer work if she wanted to.
Do this before the kids go to camp

Schools can surprise you with all kinds of early-dismissal days and holidays you forgot were on the calendar, but summer camps can be even worse. One camp may have one schedule for the first part of the summer, another camp may be totally different. If you expect your childcare provider to do camp pickups and drop-offs, consider what is reasonable and will provide the most consistency in their hours.
Talk Sick Days and COVID Policy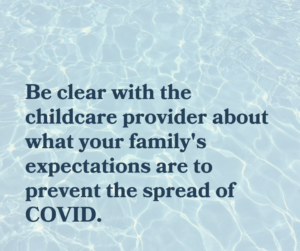 If you haven't already, be clear with the childcare provider about what your family's expectations are to prevent the spread of COVID, including following the latest CDC guidelines. If your child or someone in your family contracts COVID-19, assure your childcare provider that they will be given paid time off until it is safe for them to return to work. Be sure you also let them also know that they will be paid if they contract the virus as well until they are fully recovered. For more information about planning for COVID, see Hand in Hand's COVID Resources page.
How to prepare for your own kids' summer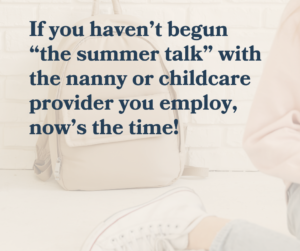 Before you sit down with them, think through a few questions:
What agreement do you have in place around

paid time off

? (If

you don't have one

, this is a good chance to bring it up and create one.)

What are your confirmed summer travel plans? What is still in the works?

Do you need help throughout the summer? What kind of help will you need in the fall, and when does the fall schedule begin for your family.

Then, be sure to ask:
Have you talked to your nanny or child care provider about their own vacation plans?

What might change for the childcare provider during the summer? Perhaps her own family's schedule is changing too.